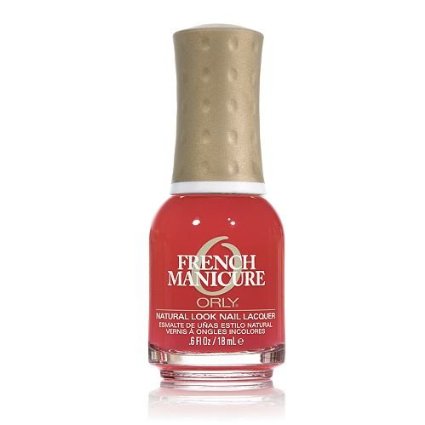 I used to be the girl with the perfectly manicured hands. My nails used to click so loud on my keyboard at work, but typing or texting was never an issue. Then came my iPhone, and texting just wasn't the same on that flat screen. That, and shoulder surgery that I knew would take me away from my twice monthly manicures made me take the gels off and go au naturale. I remember shortly after the short bland nails were my life that I was having a facial, and my esthetician said something to the effect of "wow, your long fingernails really made your hands look better" or something just as insulting. I didn't care. I was free, FREE AT LAST, of the manicures that were taking up way too much of my time and money.
I love the Orly Bare Rose French Manicure Polish, because it adds shine and just the slightest color, while still looking like clear polish. Thus, you cannot tell if any of it has chipped off. And this polish really lasts. I usually have to force myself to take it off and reapply just to give my cuticles a little manicure that they always seem to need.
Has anyone tried the shellac nails? I hear the polish lasts for weeks but I don't know if it hurts your nails. I really did some damage to my nails after the years of gel nails. Let me hear from you in the comments section.