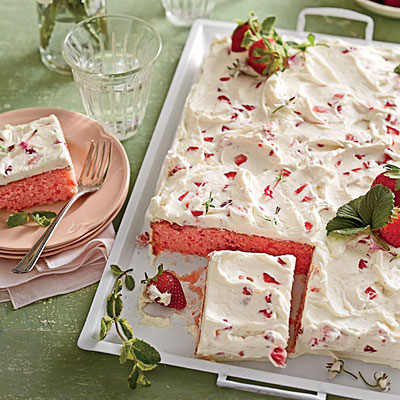 You're welcome.
You will quadruple love this recipe, just perfect for spring! It was in this month's Southern Living Magazine.
Strawberries and Cream Sheet Cake
Cake:
1 cup butter, softened
2 cups sugar
2 large eggs
2 teaspoons fresh lemon juice
1 teaspoon vanilla extract
2 1/2 cups cake flour
2 tablespoons strawberry-flavored gelatin
1/2 teaspoon baking soda
1/4 teaspoon table salt
1 cup buttermilk
2/3 cup chopped fresh strawberries
Shortening
Parchment paper
Vegetable cooking spray
Garnish: fresh strawberries
Frosting:
1 (8-oz.) package cream cheese, softened
2/3 cup sugar, divided
2/3 cup chopped fresh strawberries
1 drop pink food coloring gel (optional)
1 1/2 cups heavy cream
3 tablespoons fresh lemon juice
Cake directions:
Preheat oven to 350°. Beat butter at medium speed with an electric mixer until creamy; gradually add sugar, beating 4 to 5 minutes or until light and fluffy. Add eggs, 1 at a time, beating until blended after each addition. Beat in lemon juice and vanilla.
Stir together flour and next 3 ingredients; add flour mixture to butter mixture alternately with buttermilk, beginning and ending with flour mixture. Beat at low speed just until blended. Stir in strawberries.
Grease (with shortening) and flour a 13- x 9-inch pan; line with parchment paper, allowing 2 to 3 inches to extend over long sides. Lightly grease paper with cooking spray. Spread batter in prepared pan.
Bake at 350° for 30 to 40 minutes or until a wooden pick inserted in center comes out clean. Cool in pan on a wire rack 30 minutes. Lift cake from pan, using parchment paper sides as handles. Invert cake onto wire rack; gently remove parchment paper. Cool completely (about 1 hour). Spread Strawberry Frosting on top and sides of cake.
Frosting directions:
Beat cream cheese and 1/3 cup sugar with an electric mixer until smooth; add strawberries and food coloring (if desired); beat until blended.
Beat cream and juice at medium speed until foamy; increase speed to medium-high, and slowly add remaining 1/3 cup sugar, beating until stiff peaks form. Fold half of cream mixture into cheese mixture; fold in remaining cream mixture. Use immediately.