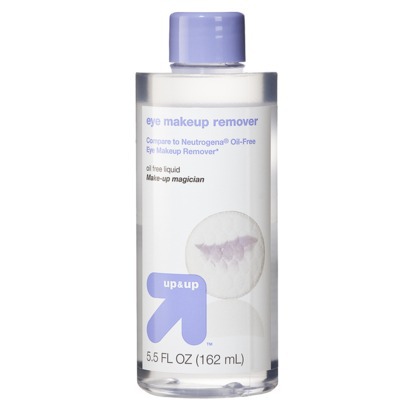 I've blogged in the past that the Neutrogena Eye Makeup Remover was my favorite. A woman is entitled to change her mind. AND save money. I've done both.
I used the CVS brand for a while and was happy with it and the price too. CVS also compared its brand to that of Neutrogena.
Then one day I purchased the up&up cotton rounds, and loved them. So the next time I was in Target, and in need of an eye makeup remover, I tried the up&up version. Up&up is Target's brand, in case you were unaware. The 5.5 ounce bottle runs about $4.5o.  Neutrogena runs about $8. What I love the best about the up&up eye makeup remover is that it doesn't make my eyes sting at all. It does the same great job as Neutrogena and CVS version, but I always had a little stinging or burning after I used it and needed to wipe my eyes with water to get the solution out. Not with the up&up brand.
Another great benefit? Sometimes I can be a little heavy with the eyeliner. And you know how I am about mascara. The other eye makeup removers wouldn't always get everything off easily. I'm always very protective of the eye area and refuse to pull or tug, so I would just take a qtip and some baby oil to get the remnants. Not so with up&up. It takes it all off, baby! My poor bottle of baby oil is being neglected.
So, if you are looking for a good makeup remover, this is the one! In my humble opinion, of course.