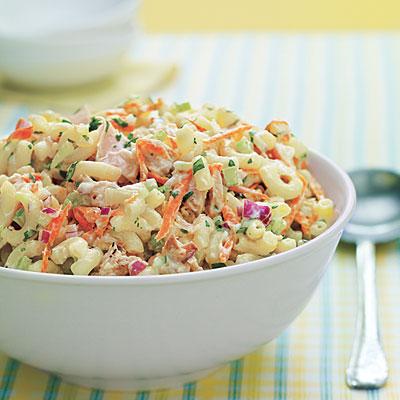 If you are looking for something quick and easy to make for your own crowd, or take to a crowd, here's the one.
Picnic-Perfect Tuna-and-Macaroni Salad (allyou.com)
Salt and pepper
1 pound elbow macaroni
3 ribs celery, finely chopped
1/2 cup finely diced red onion
1/2 cup finely chopped fresh parsley
1 carrot, grated
1 12-oz. can tuna in water, drained
1/2 cup plus 2 Tbsp. reduced-fat mayonnaise
1/4 cup plain low-fat yogurt
1 tablespoon plus 1 tsp. cider vinegar

Bring a large pot of salted water to a boil. Add macaroni and cook according to package instructions until al dente. Drain, rinse with cold water and drain again.
While pasta is cooking, combine celery, onion, parsley, carrot and tuna in a large bowl. Add cooled macaroni and toss to combine. In a small bowl, whisk mayonnaise, yogurt and vinegar. Season with salt and pepper and whisk. Pour over pasta and toss until well coated. Cover and refrigerate until ready to serve.

Note:

Add veggies: Toss in chopped artichoke hearts, sun-dried tomatoes or roasted red peppers.
Trade pastas: You can use any short pasta shape in this recipe.