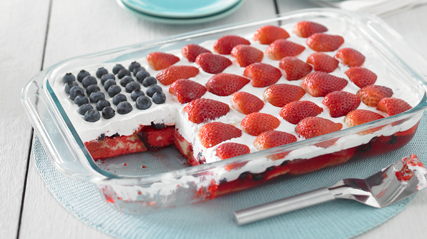 Here's the perfect dessert for your Memorial Day get-together from Kraft Foods.
Wave Your Flag Cake
4 

cups  fresh 

strawberries

, divided

1-½ 

cups  boiling water

2 

pkg.  (3 oz. each) Jell-O

 Gelatin

, any red flavor

Ice cubes

1 

cup   cold 

water

1 

pkg.  (12 oz.) prepared pound cake, cut into 10 slices

1-⅓ 

cups  

blueberries

, divided

1 

tub   (8 oz.) Cool Whip Whipped Topping, thawed
SLICE 1 cup strawberries; cut remaining strawberries in half.

ADD boiling water to gelatin mixes in large bowl; stir 2 min. until completely dissolved. Add enough ice to cold water to measure 2 cups. Add to gelatin; stir until ice is melted. Refrigerate 5 min. or until slightly thickened. Meanwhile, cover bottom of 13×9-inch dish with cake slices.

ADD sliced strawberries and 1 cup blueberries to thickened gelatin; stir gently. Spoon over cake. Refrigerate 4 hours or until firm.

SPREAD Cool Whip over dessert. Top with fruit to resemble the flag, using strawberries for the stripes and remaining blueberries for the stars.
VARIATION

Prepare as directed with fat-free pound cake and Cool Whip Lite Whipped Topping.

SUBSTITUTE

Prepare using Jell-O Berry Blue Flavor Gelatin.

WAVE YOUR FLAG "CHEESECAKE"

Prepare as directed, mixing the Cool Whip with 2 pkg. (8 oz. each) softened Philadelphia Cream Cheese and 1/4 cup sugar before spreading over dessert.