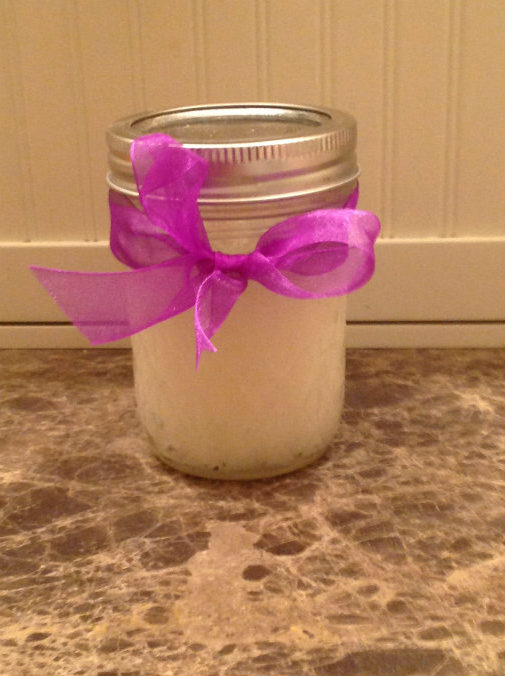 A friend of mine gave me this FABULOUS Lavender Body Scrub she made herself. Wasn't that sweet? I'm telling you, this should be your go-to gift for your friends, hostess gift, etc. As soon as I use up the jar she gave me I guarantee I will be making it again!
Years ago my favorite body scrub was by Origins. It was a lavender-scented scrub and I adored it. I used to always ask my husband for it for Christmas or my birthday, because it was around $30 for about eight ounces. Then, as it always happens with stuff you love, they discontinued it.
So you can imagine how GLEEFUL I was when I first opened this little magical jar of wonder and used it. It smells exactly like the Origins scrub, except it is a little thicker, which means all you need is a little to do the job. The smell is out of this world, and my skin thanked me for the treatment! Now, nothing against my precious friend, but I imagine if you broke down the cost of this scrub, I would venture to say it was only a few dollars. And seriously? It makes me happier than the store bought one, because she made it herself. Just for me!
Here is her recipe. I'm sure if you would prefer a more citrus scent, you just substitute the oil. As a bonus, she even gave me her recipe for DIY Lotion.
I just mix enough sugar to fill the jar. Add coconut oil in liquid form until I get the consistency I want. Then add 6-10 drops each lavender and frankincense. Then I put into the jar and top with a little grapeseed oil.

I just started making some lotion you might like too. Get a cup of coconut oil in solid state and whip in stand mixer for about 5 minutes. Then add 6-10 drops each lavender and frankincense, mix well and put in glass jar. 
I'm sure if you searched, you could probably find a printable label out there on the world wide web, if you wanted to make a cute label to add to it.
Perfect gift. Love, Love, Love it and love DIY formulas! I'm turning into a real chemist here!
In case you missed my previous DIY beauty posts, check out DIY Lash Growth Serum, DIY Vitamin C Serum, and DIY Lip Scrub.
Send me your DIY beauty recipes. If I keep this up, my husband says he's going to buy me a lab coat for Christmas!