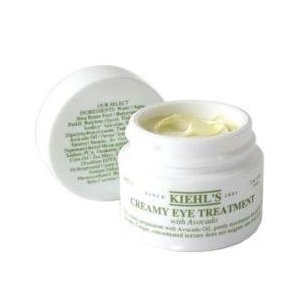 I am the queen of moisturizing. Look, I cannot afford a face lift, I would never do botox (well, never say never), so my only alternative is to take care of my face. I used to tell my son, "take care of your face, and your face will take care of you".  I've tried.  My mother always had gorgeous skin and always told me to moisturize. So I do. And I use a lot of different products, hoping that switching it up, like my hair products, keeps my purdy face on alert! Kiehl's Creamy Eye Treatment is one of my favorite nighttime eye creams. According to Kiehl's website, it contains three key ingredients:
Avocado Oil, derived from the fruit of a tropical American tree, is a rich, fatty-acid emollient. Avocado Oil is known to be the most moisturizing of any fruit oil. It is also a natural source of Amino Acid proteins, Vitamins A, D, E, and potassium. Helps to restore the natural moisture of the skin.

Beta-Carotene is a naturally derived antioxidant predominantly found in many orange/red vegetables such as carrots. It is used in Vitamin A production and gives an orange tint when used in skin care products.

Shea Butter is the natural fat obtained from the fruit of the African Karate tree and is widely used in lotions and cleansing products for its hydrating properties. Protects skin from dehydration, restores skin's suppleness and improves the appearance of dry skin.
All I know is it works, it is very creamy and luxurious. It's less than $25 for the pot, and it will last you. I've used this product for years and I think I'm only on my second pot.