I have used this recipe since I found it in my Southern Living Magazine in 2003. Everyone will love you if you make this! Promise!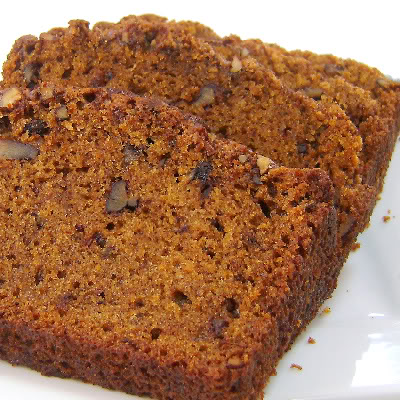 Pumpkin-Pecan Bread
3  cups sugar
1  cup vegetable oil
4  large eggs
1  (15-ounce) can pumpkin
3 1/2  cups all-purpose flour
2  teaspoons baking soda
2  teaspoons salt
1  teaspoon ground cinnamon
1  teaspoon ground allspice
1  teaspoon ground nutmeg
1/2  teaspoon ground cloves
2/3  cup water
1  to 1 1/2 cups chopped pecans, toasted
Beat first 11 ingredients at low speed with an electric mixer 3 minutes or until blended. Add 2/3 cup water, beating until blended. Stir in pecans. Pour batter into 2 greased and floured 9- x 5-inch loafpans.
Bake at 350° for 1 hour and 15 minutes (325 for dark pans)or until a wooden pick inserted in center comes out clean. Cool in pans on a wire rack 10 minutes; remove from pans, and cool completely on wire rack.
NOTE: Bread may be frozen for up to 3 months.