I've decided to start doing an "App of the Week" since there are six hundred and seventy four billion apps out there. My numbers may be off a little. So, if you have a favorite app please share in the comments section.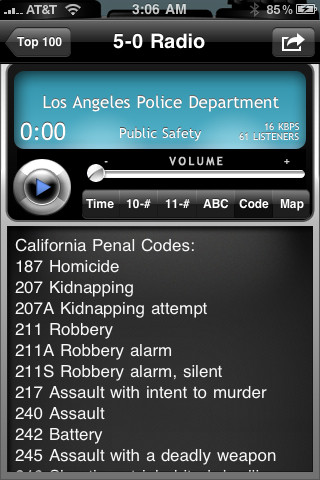 5-0 Radio Pro is an app that I have had on my iPhone for a few years. I finally got to use it on New Year's Eve after there was a bank robbery in my son's area and he called to see if I could figure out why helicopters and policemen with dogs were all over his neighborhood. Why yes, son, I can tell you that. Within seconds I was listening to his town's police scanner and finding out that there was a bank robbery and the suspect had fled into my son's neighborhood and they were searching every house.
Me being the Gladys Kravitz that I am, the 5-0 Radio Pro is right up my alley. The 5-0 Radio Pro has over 35,000 live police, firefighter, emergency medical ambulance, air traffic control, railroad, and even music stations from all over the world. You can save your stations to favorites, for quick access. The scanner also includes the codes for police and fire so you know what they are talking about as you listen. You can even listen to the scanner while using another app.
I had the free version at first (and this was a few years ago so my memory isn't so clear) but I think it didn't offer any scanners in my area, which would be why I would want it.
So I guess I'm sort of a modern day ham radio nerd, huh?