Many, many years ago when I was single, I needed a small toolbox for hanging pictures, minor repairs, etc. I purchased a toolbox made just for women. It has a cute baby blue toolbox, with baby blue hammer, screwdriver, and a few other things that have been lost over the years. When I married, my husband had his big manly toolkit with 6,000 things in it.  I kept my girly toolbox, and it is still the only one I reach for.
I found this great 135 piece household tool kit and put it on my wish list.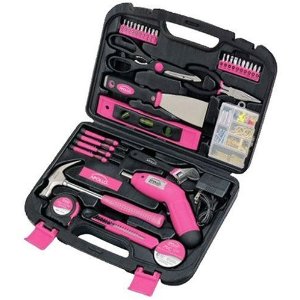 This set includes an 100 piece fastener set, a 4.8 volt cordless screwdriver, an 18 mm utility knife, 10 1-inch CRV screwdriver bits (1/8, 5/32, 3/16, 1/4, PH1, PH2, PH3, PZ1, PZ2, PZ3, 10 1-inch CRV screwdriver bits (T10, T15, T20, T25, T27, T30, 1/8, 5/32, 3/16, 1/4) an 8-inch scissors, an 8-ounce claw hammer, four precision screwdrivers (Phillips #0, Phillips #1, slotted 2.4 mm, slotted 3.0mm), UL electrical tape, 6-inch long nose pliers, a 9-inch plastic magnetic level, a 12-foot-by-5/8-inch measuring tape, a 6-inch adjustable wrench, a UL recharger, and a 2-inch putty knife. There's no assembly required, either, so getting going is a snap.
I like how there is a slot for everything. Things might not get misplaced when you go to put it up and see an empty slot. I've always wanted a cordless screwdriver too, so that would be a handy addition to my collection.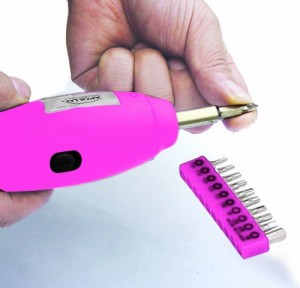 Girl power!