This is one of my favorite weight watcher recipes.  I'm going to give you the actual weight watcher recipe, which is 7 points +.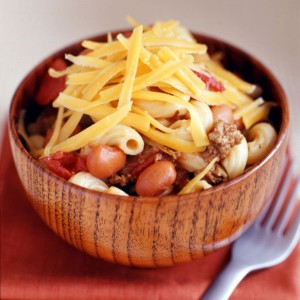 Weight Watchers Cheesy Chili-Mac
2/3 pound(s) uncooked lean ground beef 2 medium uncooked onion(s), chopped 29 oz canned stewed tomatoes, Mexican-style (undrained)* 2 1/2 cup(s) canned tomato juice 4 oz canned green chili peppers, diced, drained  2 tsp chili powder 1 1/2 serving(s) uncooked macaroni, elbow-size 31 oz canned pinto beans, rinsed and drained 1/2 cup(s) low-fat shredded Cheddar cheese
Coat a large skillet with cooking spray; set over medium-high heat. Cook beef and onion until meat is browned, stirring and breaking up meat with a spoon as it cooks, about 10 minutes; drain off fat.
Stir in undrained tomatoes and their juice, tomato juice, chili peppers and chili powder; bring mixture to a boil.
Stir in macaroni and beans; return to a boil. Reduce heat, cover and simmer until macaroni is tender, about 15 minutes. Spoon chili into bowls and sprinkle with cheese. Yields about 1 cup chili and 1 tablespoon cheese per serving.
*I am not a fan of stewed tomatoes, so I substitute Ro-tel Tomatoes.  My calculations, which are often a little off, show zero points for Ro-tel, and Hunt's stewed tomatoes have 1 pt per serving.  I still count this as 7 points +.