Have you noticed my posts this week have been a little, short? I have a horrible head cold. I try to sit and type up clever little things to tell you but it's just not working.  In the meantime, I have been comforted by these Cool Touch Kleenex.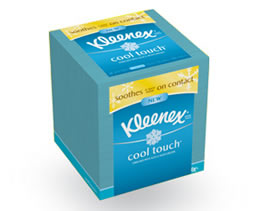 I have gone through almost a whole box.  This may be a little TMI, but my nose isn't peeling or red. I've used those aloe infused tissues before and that still didn't stop my cute little button nose from being raw and red.  Kleenex describes these as:
Tissues are made with a proprietary blend of ingredients, including cooling moisturizers and aloe. When Kleenex Cool TouchTM Tissue comes in contact with your skin, body heat activates the formula to release cooling 
These tissues are COLD when you put them on your nose, and very soft.  I highly recommend you purchase some of these before this nasty cold arrives in your house!
I'll be back to 100% soon.  Promise!