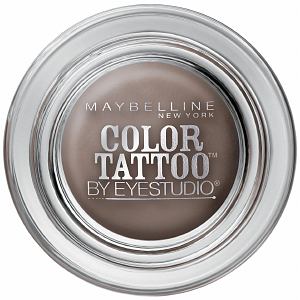 I recently started using a cream blush, so when I saw these cream eyeshadow pots at my local drugstore, I thought I would give them a try. The Maybelline Color Tattoo is very pigmented. You only need a teeny amount on your pinky to cover your eye in a millisecond. Maybelline Color Tattoo currently comes in ten colors. I purchased Tough as Taupe, Bad to the Bronze, and Tool Cool. The only one that looked like it was a true matte is the one pictured above, Tough as Taupe, and it is my favorite because it is matte. The color is very subtle. I will probably keep Bad to the Bronze because the shimmer is not too much, and it is a gorgeous bronze. Too Cool is definitely too cool for me. Way to much shimmer. Don't get me wrong, if you aren't an old bag with bags like me you are fine with shimmer. I just think, and it is my opinion, that after a certain age shimmer isn't good. It draws way too much attention to the wrinkles. Less is more. That being said, I love this stuff. I have worn it all day without a primer and it never creases or fades. It is definitely a keeper. Another plus? I didn't have all that shadow droppings under my eye like I do after powder eyeshadow. I am a hot mess when I try to do my eye makeup!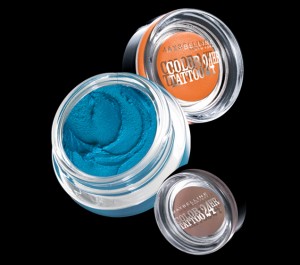 As you can see, most of the colors are BOLD. As my son constantly reminds me, I am not any merchandiser's target audience. They all market to the younger crowd. These companies think old people don't buy anything. As a woman of a particular age, I can assure you that we buy more crap in the constant pursuit of looking better. I am really not trying to look 20. Believe me, I am well aware that ship has sailed. But I can still look my best, right? I continue to look for products that don't find their way into every crease and then emphasize it. I am very happy with this eyeshadow, and would encourage Maybelline to come out with more neutral matte colors. My eyelids don't look dry and tired. They look fresh and perky. Who wouldn't want that?
I think these eyeshadows just came out in 2012 so next time you are at your local drugstore, try and pick up one. At my drugstore, they were about $6.