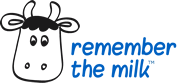 Great app if you are into keeping lists, or goals, or projects. RTM – Remember the Milk – sounds like a grocery list app but it is so much more than that. RTM is a great organizational tool. I no longer have to look for the piece of paper that I wrote down a to-do item, or note about something upcoming, or any other things that a person must keep up with on a daily basis, because I always have my iPhone with me, and can enter on this app and even set a deadline for completion.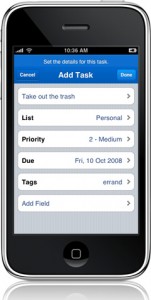 Key Features:
An intuitive interface, available in 20 languages, makes managing tasks fun.
Sync with Remember The Milk online (limit once every 24 hours). Great for backing up your tasks and notes. Access your tasks at www.rememberthemilk.com.
Work offline and sync when an Internet connection is available.
Task Features:
Full-featured, with all the fields you need: task name, list, priority, due date/time, repeat, time estimate, tags, location, and URL.
Organize efficiently by list, Smart List, tag, or location and prioritize your tasks.
See at a glance how many tasks are due today, tomorrow, and this week.
Quickly switch between your incomplete and complete tasks.
Sort by priority, due date, or task name.
Action Features:
Add and edit tasks with a few taps, and swipe to complete tasks quickly.
Add tasks super quickly with Smart Add and auto-completion in the 'Add Task' bar.
Complete or postpone multiple tasks at once with a special edit mode.
Save time with add by context: tasks added to your today list will be due today, while tasks added to Smart Lists inherit their criteria.
Note Features:
Store additional info about tasks in notes for quick reference.
Email addresses and links conveniently auto-link to Mail and Safari.
Phone numbers auto-link for handy one-touch calling (iPhone only).
Location Features:
Detect your current location to see nearby tasks due today, this week, or any time; plan the best way to get things done.
Add your current location, or search by address to record new locations.
Search Features:
Powerful search makes it easy to find tasks; supports multiple criteria searches.
Save your searches as Smart Lists to easily see tasks that match your desired criteria (similar to Smart Playlists in iTunes).
iOS 4 and iPhone 4 Support:
Fast app switching with multitasking support (iOS 4 only).
Sync completes in the background if you exit the app mid-sync (iOS 4 only).
App artwork takes advantage of the beautiful Retina display.
Reminder Features:
Get reminders via email, SMS, and instant messenger (AIM/iChat, Gadu-Gadu, Google Talk, ICQ, Jabber, MSN/Windows Live, Skype, and Yahoo!). Set up via the website; see www.rmilk.com/reminders.