Top of the mornin' to you. I thought this would be a fun recipe to make with your kiddos.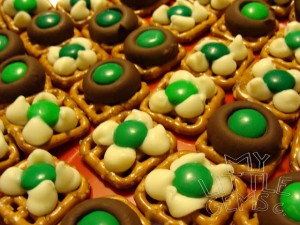 Lucky Irish Kisses (Recipe and Photo from My Little Gems)
All you need is pretzels, Hershey's kisses, white chocolate chips, and green M&M's.
Preheat your oven to 200 degrees.
Lay out your pretzels on the cookie sheet.
Place one Hershey's kiss or 4 chocolate chips on each pretzel.
When the chocolate is soft (about 5 minutes), take out of oven and place a green M&M in the middle. If you use the chocolate chips, you can use a toothpick to swirl it a little so it looks like a clover.