If only it were that easy. Wave a magic wand and rewind on the age. I don't think Maybelline Age Rewind makes me look any younger, but I do love the Age Rewind Foundation and concealer.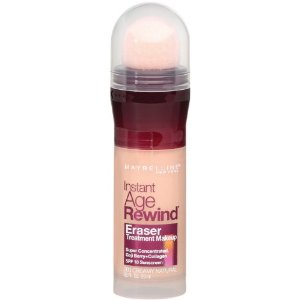 The foundation can be found at any major supermarket or drugstore for under $10. It has a sponge applicator and goes on quickly. For some reason, (mental), I had been using this as my quick, run out the door for a few errands or around the house makeup. It finally started making no sense to me. I look the best when I have this stuff on. I just spent a few days away from home and thought I'd wear "the good stuff". I got a few glimpses of myself and probably scared a few children.  This stuff really does great as far as coverage, lastability, and smoothness. Okay, spell check, lastability may not be a word but I like it. Did I mention how cheap it is? And I really love the sponge applicator. Maybelline says it "erases fine lines and age spots". Don't be fooled. It doesn't. The good thing is unless I look into my 10x magnifying mirror, it does.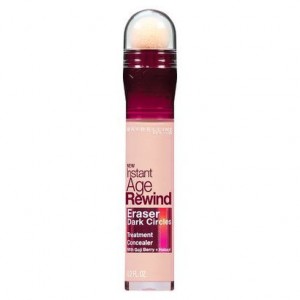 The Age Rewind Concealer has the same premise. It does a good job in covering up the dark area under the eye and does brighten. And for me, a woman of a particular age, i.e., OLD AS DIRT, it doesn't settle into the fine lines under the eye. If you don't have those yet, you should blow a little kiss to yourself every day. It's going to get ugly.  If you start to feel like you may need a concealer, or aren't happy with the concealer you are currently using, try this for under $8.
Do you use any of the Age Rewind products? Let me know what you think of them. We are in this together!