Let me start this review by stating that I do not own the Wellness Mat, but I wish I did. I own two Gel Pro mats, and while I love them, they are starting to curl around the edges. As soon as someone in my house busts their rump tripping on them, I will be purchasing the Wellness Mats to replace my current Gel Pro mats. I think the features are the same, and I will go into that more, but as you can see from the photo below, the Wellness Mat has a beveled edge, which means it won't curl up. A friend of mine pointed this out to me after I purchased the Gel Pro, and if that wasn't confirmation enough, I saw an episode of "I Want That" on HGTV, which covered the same topic: Wellness Mat good, Gel Pro Mat not.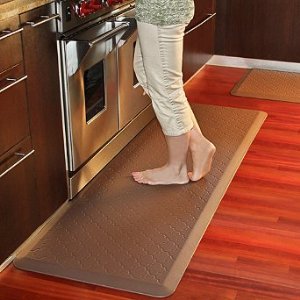 These mats are expensive, but they are padded with this soft wonderful cushion that helps rest your feet and legs while you are slaving away in the kitchen.
According to its website:
The Wellness anti-fatigue mats are ergonomically engineered and medically proven to provide you (and your feet) unsurpassed comfort, safety, relief and well-being. It is that simple. Step onto WellnessMats and experience the cushioned, lasting comfort and support we provide – your feet, knees, hips and back will thank you. WellnessMats are the perfect kitchen mat (at the stove, sink or oven), vanity mat (no more achy feet!), garage mat, and even laundry mat (iron in comfort!) place us anywhere you find yourself on your feet! Cook, clean & create in comfort.

Proudly made in the USA (100%) and backed by our comprehensive 7-year warranty, our mats have been providing comfort & support to the TSA and Department of Homeland Security (and chefs around the country) for years. Yes, that is what you stand on while going through airport security. Now we bring that comfort & relief home with over 60 decorative mats to choose from.
I think when a company offers a seven year guaranty, they believe in their product. I can tell you that the anti fatigue mats I own are wonderful.  I keep one under the sink area, and one under the stove/baking area of my kitchen, and it really gives you a cushion when you are standing in one position for a long time. This happens to me twice a year: Thanksgiving and Christmas. Don't judge me.
Do not wear your stiletto heels when you are standing on these though because it will leave a dent or even puncture the mat. I have a dent, and it won't come out. Maybe if I punctured it I could go ahead and get new ones?
Another great feature about these mats is that you can wipe them clean. Unlike a kitchen rug that gets spills and caked in gunk that never comes out, these things stay fresh as a daisy.
Do you own any anti-fatigue mats? Leave me a comment!