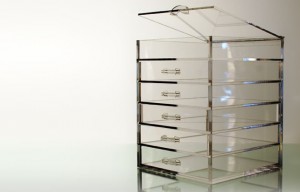 I turned 54 years old last week. In all my years of putting on makeup, I have never, ever had a vanity. When I was in high school, there was a period of time that I actually had to share a room with my mother. While she got the bathroom in the master bedroom, and my two brothers shared the other bathroom, I actually had a mirror in the closet to put on my makeup. Did you hear me? I had a mirror in the closet. It's no wonder I wasn't Homecoming Queen. But I should have been.
I have stood up for years and put my makeup on, or better yet, sat on the (closed) toilet seat and used the end of the countertop to stick a mirror up and apply makeup. Recently, it finally dawned on me that I have had a spare bedroom for eight years now with a built in desk. This room gets used about twice a year. So why not make the desk into a well-deserved vanity? No one ever said I was the fastest, or the brightest, but eventually I do get there.
Eight years people. . .
So I set up the desk with all my makeup accoutrements. You know it takes a village. My bestest of friends, or BFF as it were, decided to surprise me on my birthday by getting me the Clear Cube. You might have seen this if you watch the Kardashians. I certainly am way too sophisticated and refined to watch such a show. People talk, you hear things . . .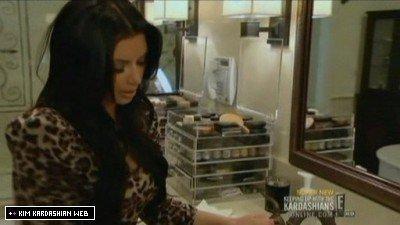 Let me give you one little tip. In every picture you see on the web of the Clear Cubes filled with makeup, the top lid is always open. Why have a lid if it is always going to be open? You can order it without the lid, just request no lid when placing your order. It works great for me because my taller items can go on the top section. Below is an actual picture of my very own Clear Cube. While I have a lot of products, you will note that Miss Kardashian above, has two Clear Cubes. I could probably fill up two, but I only have room for one!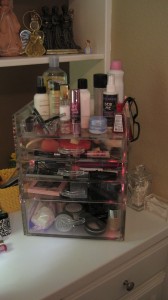 Isn't it wonderful? There are several options to choose from as far as number of drawers and inserts. Mine is the four drawer with an X-insert and a grid insert.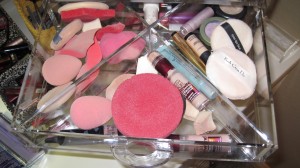 I am not even embarrassed by the number of sponges I have. Don't judge me. I just wanted to show you the inserts: the x-insert shown above, and the grid insert is shown below. Don't judge the number of mascara tubes I have either.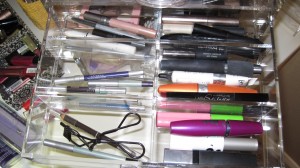 So, everything is now organized and I feel like such a glamorous diva! I love being able to see all my products. I'm thinking of getting some high heeled slippers and a robe, both with a boa, just to complete the picture.
Now, this is not a cheap purchase. But if you have money, or a really good friend, you should definitely get one! It is very well made, and well worth the price . . . which for me, was free. But seriously, My BFF and and I both purchased an acrylic jewelry holder over thirty years ago, that isn't anywhere near the quality of the Clear Cube, and it is still in excellent condition. And now I no longer have a guest room. I have a makeup room. And it's fabulous!