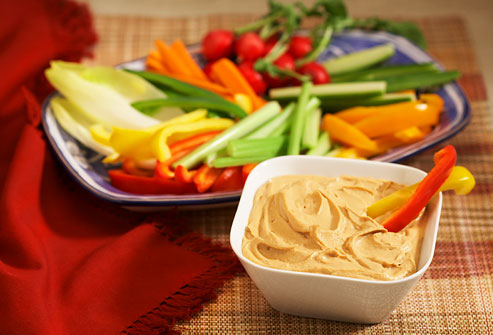 Sally-Gally needs her own cooking show, don't you think? Here's another great recipe she hasn't made for me, but I saw it in a picture she took of a gathering at her house and it looked so yummy I had to have the recipe!
Sally-Gally's Easy Hummus
:
1 (15 ounce) can garbanzo beans, drained, liquid reserved
1 clove garlic, finely minced or crushed
juice from 1/2 lemon
1 teaspoon ground cumin (or more if you prefer)
1/2 teaspoon salt
1 tablespoon olive oil
In a blender or food processor combine all the ingredients. Blend on low speed, gradually adding reserved bean liquid, until desired consistency is achieved.
Easy as that! It is sooooooo yummy with cucumber slices or carrot slices as 'chips'. Also mini carrots, celery, etc.  Of course with pita chips it is delish but the veggies are really good too.
Have any of you tried making kale chips? I bet it would be good with that too. I've tried kale, I'm not a fan, but everyone seems to rave about kale chips. So make some, with the hummus, and come over. I'll make you some iced tea or something to go with it.