I must be truthful and tell you that originally I was going to write about Vaseline Aloe Fresh Hydrating Body Lotion today. I picked some up just a few weeks ago to keep by my new vanity area, and just love it. In preparing to write today's post, I now see that it is, naturally, being discontinued. Don't you hate every time you find something they discontinue it? It appears they are repackaging it and adding a much higher price tag to it. I'm sure it is the same dang thing. So, if you want to pick up a huge bottle (mine is 24.5 fl. oz. and I'm positive it was no more than $5 tops) here is a link on amazon.com: Vaseline Aloe Fresh Body Lotion
. You can probably still find it at your local drug store or Walmart, etc. I certainly will.  It is very hydrating, and has a clean smell. It's made with Aloe and Cucumber. It absorbs very quickly and leaves absolutely no sticky residue.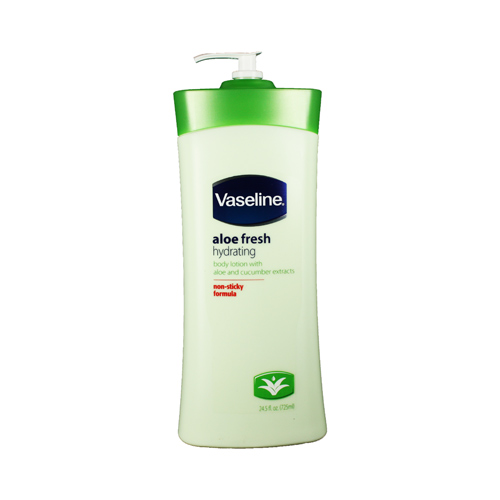 Urgh! Moving on. I'll find my happy place and tell you all about Spongeables.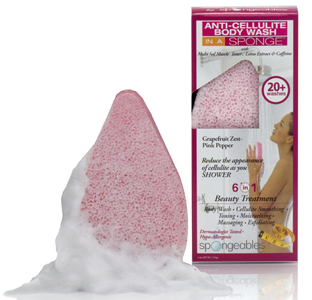 See at the top of the package where it says "anti-cellulite"? If you believe a scrub gets rid of cellulite, I wish you good luck with that. What I can tell you about these little darlings is that it is a great exfoliant. If you are using any kind of self-tanning products this summer, this would be a great thing to use before using your tanner. I am currently using the Grapefruit Pink. I loved it so much that on my next trip to Ulta I purchased the Orchid Black Tea
. I've only smelled the box but I think the Orchid Black Tea smells the best to me. They both smell very fresh and clean. What I can tell you is this, even though it says it is good for 20 uses, I've used mine more than that and there is still plenty of soap in it. What I can also tell you is once the soap is gone; I think the scrub side will still hold up for a long time. That's why I can't review the Orchid Black Tea version yet. I'm not done with the first one! I purchased mine for a little over $7 at Ulta, and found them on line for you for $7 at Amazon with free shipping (and no tax). So, do what I always tell you to do, and add to your wish list on amazon, and when you have something else to order, you can either add this to it, to qualify for the free shipping, or combine it with whatever you are getting to qualify for the free shipping. You have to spend $25 to qualify. Now, can you stock up on these? Absolutely. Can you give these as gifts? Absolutely. Can you keep some in your guest bathroom? Absolutely. These are a must-have girls!
Now, I have to go dig through my beauty products and find what I am going to blog about next week, since that durn Vaseline lotion is discontinued . . .
As always, if you have any suggestions, leave me comments! This is a lonely job! xxxooo