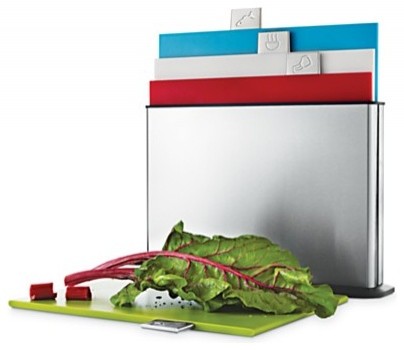 This time of year I have several cooks in the kitchen getting food ready for outdoor grilling get-togethers. I love the Joseph Joseph Index Style Chopping Boards
. This handy set of multicolored cutting boards is great for two purposes: 1) If I have extra hands in the kitchen, everyone gets a cutting board, and we draw straws to see who has to cut up the onions for the burgers. 2) If I have been abandoned by my help, and am all alone cutting several things, the boards are pre-marked so that there is no cross contamination. The cutting board's categorization system offers four color coded boards to distinguish at a glance which board is intended for which use: red for raw meat, blue for seafood, green for veggies and white for cooked foods. For further ease, the boards also have an illustrated tab indicating their use. The four boards store in staggered order making the right board readily accessible and are contained in a neat ABS storage case that has a non-slip base. Each board is made from dishwasher safe polypropylene. And they display great on the countertop.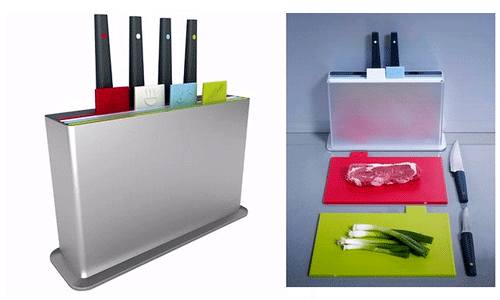 If you want to be even more OCD about it, you can get the Joseph Joseph Cutting Boards With Coordinating Knives
. There is a color dot on each knife to coordinate with the matching cutting board.
Now, who wants to come over and help? Chop, chop!