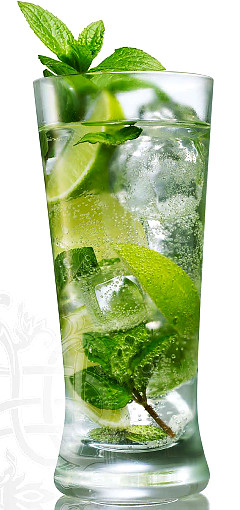 I love a Mojito in the summer. So light and refreshing. But did you know that you can make variations of Mojitos? Okay, I heard that smart remark, let's just play along here!
This Peach Mojito recipe was in my Southern Living magazine: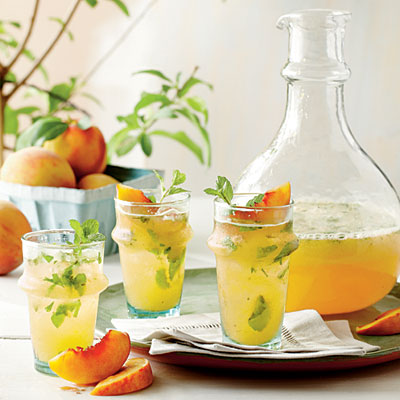 Peach Mojito
2 large peaches (about 1 lb.), unpeeled and chopped
1/2 cup superfine sugar
1/4 cup fresh lemon juice (about 1 lemon)
1/2 cup firmly packed fresh mint leaves
4 cups club soda, chilled
2 cups white rum
Garnishes: fresh mint sprigs, peach wedges
Process first 3 ingredients in a blender or food processor until smooth. (Yield should be about 2 cups.)
Muddle mint leaves against bottom and sides of a glass pitcher to release flavors. (Leaves will be bruised and torn.) Add club soda, rum, and peach mixture; stir to combine. Serve immediately over ice.
Sandra Lee has this yummy Blueberry Mojito – and you know how good blueberries are for you!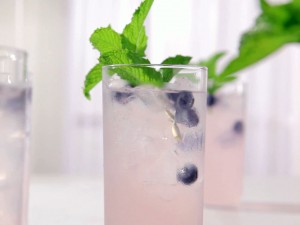 1 cup blueberries
1 bottle ready-to-serve Mojito mix (recommended: Smirnoff)
1 liter bottle sparkling water
8 sprigs fresh mint, for garnish
In a large pitcher, add the blueberries and muddle until they release their juices. Pour in the ready-to-serve Mojito mix and sparkling water and stir. Pour into glasses filled with ice and garnish with a mint sprig and serve.
I also found this Watermelon Mojito Recipe on Food Network: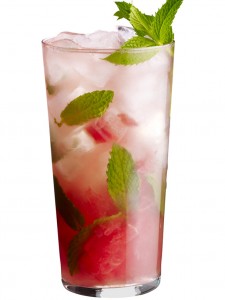 Watermelon Mojito
Muddle 2 watermelon chunks with the juice of 1 lime and 2 teaspoons sugar in each glass. Stir in a handful of mint leaves, then add 2 ounces white rum and ice. Top with ginger ale; garnish with more mint.
Doesn't that cool you off? So refreshing! What is your favorite summertime drink? Leave me a comment or recipe in the comment section.