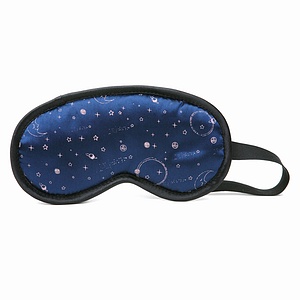 When I get to sleep in, I do not want anything to possibly wake me. I hate when the morning sun comes flooding in my bedroom. I used to have a very dark bedroom, but in my latest house, we get a lot of sunlight. Solution? Dream Zone Sleep Mask
. This padded silk mask with an adjustable velcro strip is perfect. It has a very large surface area, so absolutely no light creeps in. I cannot begin to tell you how comfortable the mask is, I honestly cannot even tell I have it on. I always have a few spares on hand too, for any overnight guests. The Amazon link above is $6.25, with free shipping, so pick up several.
I had a friend a few years ago who had a face lift, and her plastic surgeon told her to get a silk sleeping mask and use it while she was recovering from surgery. The plastic surgeon told her that he used to carry silk eye masks but couldn't find them anymore. I told her about mine, and we drove to Bed Bath and Beyond and picked up several for her, and one to give to the plastic surgeon so he could tell all his patients. A few years ago when I was recovering from shoulder surgery, I kept mine around my neck during the day, so when I felt the need for a little nap, I would just put the mask over my eyes and not have to worry about light waking me up.
So, if you want to block out light, or know someone who does, I would highly recommend the Dream Zone Sleep Mask. Do you use a sleep mask? Let me know in the comments section.