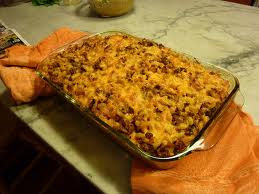 My brother asked that I post his favorite recipe my mom used to make. This is her exact recipe, which isn't so exact.
Johnny Mezzeta
1 lb. ground chuck
tiny egg noodles
onion
celery
bell pepper
tomato soup
cheese
Note the only amount was the ground chuck?
Fry meat until brown. Fry onion, bell pepper and celery in butter, put together. Add tomato soup and 1 cup water, salt and pepper. Put grated cheese on top and bake 350 degrees for 30 minutes.
I'm surprised I even found her recipe. My mom was a great cook, so great in fact that she rarely wrote her recipes down.  I have a ton of recipes from her, but they were all given to her by someone else, and then she tweaked each recipe, and didn't write that part down. My mom made what we called "Johnny Mezzeta" for us on a regular basis. Not the healthiest, but she offset it by making us liver and brussell sprouts too.
I searched on line to see if this was a real recipe, or if it was just my mom naming it after someone.  Sure enough, a real recipe, but actually named Johnny Marzetti.  Here's the story from Wikipedia, if you are interested.  I know my brothers will be.
Johnny Marzetti is a baked pasta dish, or casserole, consisting of noodles, tomato sauce, ground beef, and cheese. Other ingredients and seasonings may be added to adjust the taste. The dish originated in Columbus, Ohio, at the Marzetti restaurant, and spread to other parts of the United States as variations of the recipe were published in magazines and cookbooks during the mid-20th century. The dish is still served in Ohio, especially at social gatherings and in school lunchrooms.

A version of this dish prepared in the lower Rio Grande Valley of Texas is known as "Johnny Marzotti" and is usually served with three bean casserole.

Johnny Marzetti also gained a great deal of popularity in the Panama Canal Zone, where it was served at social occasions and on holidays since at least the early WWII era. The Canal Zone version of the dish typically includes celery and green olives, and is almost always spelled "Johnny Mazetti" by Zonians. The importance of Johnny Mazetti to the culture of the Canal Zone was such that most Zonians are unaware of the origin of the dish and are surprised to learn that it did not originate there.
And, if you want a more exact recipe, I found one that claims to be the original recipe:
Johnny Marzetti
1 (8-ounce) package noodles
1 1/2 pounds ground chuck
1 large onion, chopped
1/2 green pepper, chopped
1 (8-ounce) can mushrooms (juice included)
1 teaspoon salt
1/4 teaspoon pepper
1/4 teaspoon oregano
2 cans condensed tomato soup
1 small can tomato paste
1 cup water
2 teaspoons Worcestershire sauce
8 ounces (2 cups) sharp Cheddar cheese, grated
Brown meat; add onion, green pepper and mushrooms. Cook until tender, then add seasonings; set aside
In another pot or bowl, combine soup, tomato paste, water and Worcestershire sauce; set aside. Cook noodles and drain.
Place a layer of noodles in a greased casserole (we used 9-by-13-inches), then a layer of meat mixture and half of the sauce and half of the cheese.
Repeat, ending with the remaining cheese.
Bake uncovered at 375 degrees for 1 hour.