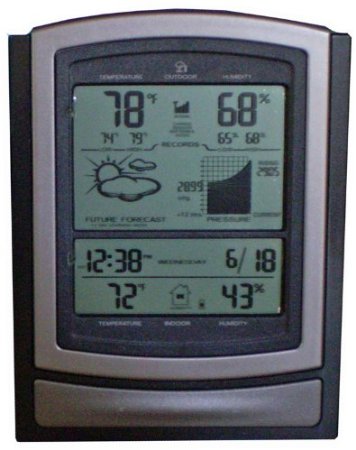 One of the favorite gadgets I have is my wireless weather station.  I think I'm on my fourth one, so just know that these things don't last forever.  I currently have the Acurite Deluxe Wireless Weather Center
, shown above, which is $48 at amazon.com. I purchased mine from Costco for $27.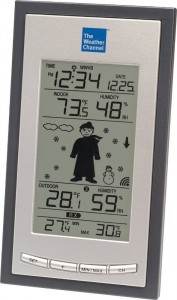 My favorite was the La Crosse Technology Weather Station with Oscar Outlook
.  See "Oscar" above, he demonstrates you what to wear for the type of weather. He changes from a coat, to an umbrella, to shorts, it always cracked me up.
These wireless weather stations can be mounted on the wall, or sit on your kitchen counter. Here's another La Crosse Technology Wireless Forecast Station with Oscar Outlook
, so you can see the change of clothes. This one is $26, and demonstrates how it would sit out on your counter.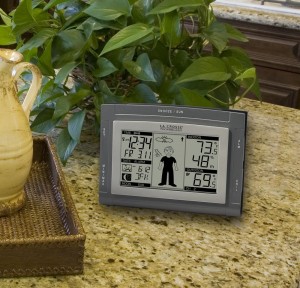 The wireless outdoor transmitter is placed – you guessed it – outside – and depending on which one you get, it will tell you how many feet the weather station needs to be from the transmitter. The early ones I had needed to be placed pretty close to the transmitter, but my current one is well over 100 feet from the transmitter and works great. I love the large display. I can see the time and temperature from across the room, which is great for someone like me! For some unknown reason, I like print to be larger and larger, AND LARGER.
I always thoroughly enjoy looking at the 100 plus degree temperatures in the summer – NOT. It also gives humidity levels – which in my area are always high! Time, date, and inside temperature information is also included.
This makes a great couple gift, housewarming gift, or gift for a guy. Or yourself. I have purchased high end and low end, and none of them last more than a few years, so take that into consideration when you purchase one!