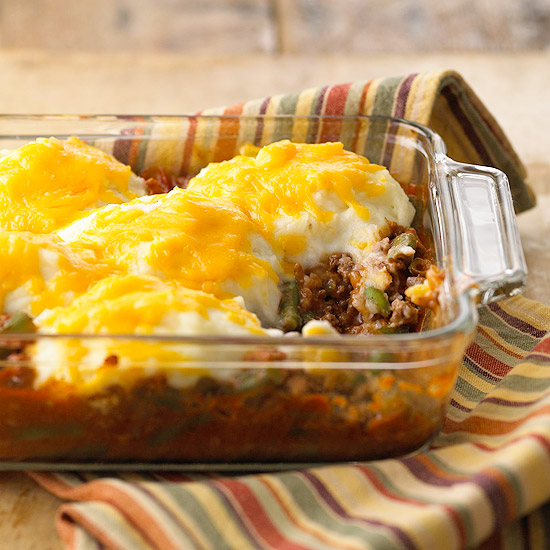 Um, um good! I love that fall is here and I can start cranking up the oven again. A feat I try to avoid during the summer 100 degree weather!
This is a yummy recipe from Better Homes and Gardens.
Hamburger Pie
Mashed Potatoes* or one 24-ounce package refrigerated mashed potatoes
1 1/4 
pounds lean ground beef
½ cup chopped onion (1 medium)
¼ teaspoon salt
Dash black pepper
2 ½ cups frozen cut green beans, thawed
1 
10 ¾ ounce can condensed tomato soup
½ cup shredded process American cheese (2 ounces)
Prepare Mashed Potatoes; set aside. In a large skillet cook meat and onion until meat is brown and onion is tender. Drain off fat. Add the salt and pepper. Stir in thawed beans and soup; pour into a greased 2-quart rectangular baking dish or casserole.
Spoon Mashed Potatoes in mounds on bean mixture (or, if desired, pipe potatoes using a pastry bag and a large star tip). Sprinkle cheese over the potatoes. Bake, uncovered, in a 350 degree F oven for 30 to 35 minutes or until mixture is bubbly and cheese begins to brown. Makes 6 servings.
*Three Options for Mashed Potatoes: 1) Use four servings refrigerated mashed potatoes. 2) Prepare 4 servings instant mashed potatoes according to package directions, except reserve the milk. Add egg and season to taste with salt and pepper. Add enough reserved milk so potatoes are stiff enough to hold their shape. 3) Make mashed potatoes using 5 medium potatoes.
Nutritional Information: Servings Per Recipe 6, Calories 376, Protein (gm) 23, Carbohydrate (gm) 34, Fat, total (gm) 16, Cholesterol (mg) 80, Saturated fat (gm) 8, Monosaturated fat (gm) 6, Polyunsaturated fat (gm) 1, Dietary Fiber, total (gm) 4, Sugar, total (gm) 9, Vitamin A (IU) 680, Vitamin C (mg) 25, Thiamin (mg) 0, Riboflavin (mg) 0, Niacin (mg) 5, Pyridoxine (Vit. B6) (mg) 1, Folate (µg) 28, Cobalamin (Vit. B12) (µg) 1, Sodium (mg) 796, Potassium (mg) 694, Calcium (DV %) 101, Iron (DV %) 3, Vegetables () 1, Starch () 2, Other Carb () 1, Lean Meat () 3, Fat () 2, Percent Daily Values are based on a 2,000 calorie diet