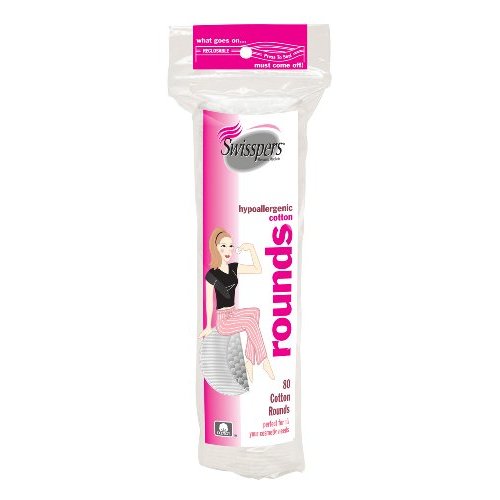 Swisspers are the absolute BEST out there, in my humble opinion of course, for your beauty regime. Start with the basic cotton rounds. These can be used for nail polish remover, among other things. I use the cotton rounds to remove my eye makeup. My glam alert post last week was about the Neutrogena Eye Makeup Remover.  So while you are out buying that, pick these up. But don't stop with just the cotton rounds.
Swisspers also carries exfoliating rounds.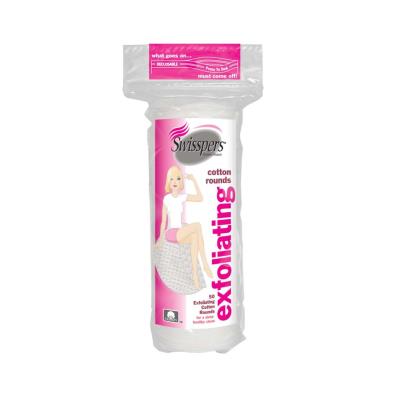 These are great for toners, like Dickinson's Witch Hazel. I was telling my friend the other day that out of all the products I use, I think Dickinson's is my fav. I have really noticed a big difference by using a toner. I had never thought a toner was necessary, but you know, once Dr. Oz says you have to have it, you have to have it! The great thing about the Swisspers exfoliating rounds is one side is soft, and the other is exfoliating. So I use the exfoliating side on my face, neck, and back of my hands, but flip over when covering my delicate eye area. I am a delicate flower, you know.
Also, in my love of Swisspers, the Cotton Cosmetic Applicators.
One end is round, and the other end is pointed. Great for touching up or blending eye makeup.
Finally, and I really, REALLY hate to do this, but I just bought these last week at Wal-Mart, and I cannot find anything online about them. So I am telling you to run, don't walk, to Wal-Mart and see if you can find some. I am going there right now, as I realize now this is a Special Edition thing and may not be around much longer. My confusion lies in the fact that I cannot find similar packaging, even without the color, at any of my go-to online sites like amazon.com, or drugstore.com. I can find Swisspers sponges, but not the same packaging. I'm sure they are all the same, but this is the only one I have tried.  See below on my package where it states it is a "Special Edition Color"?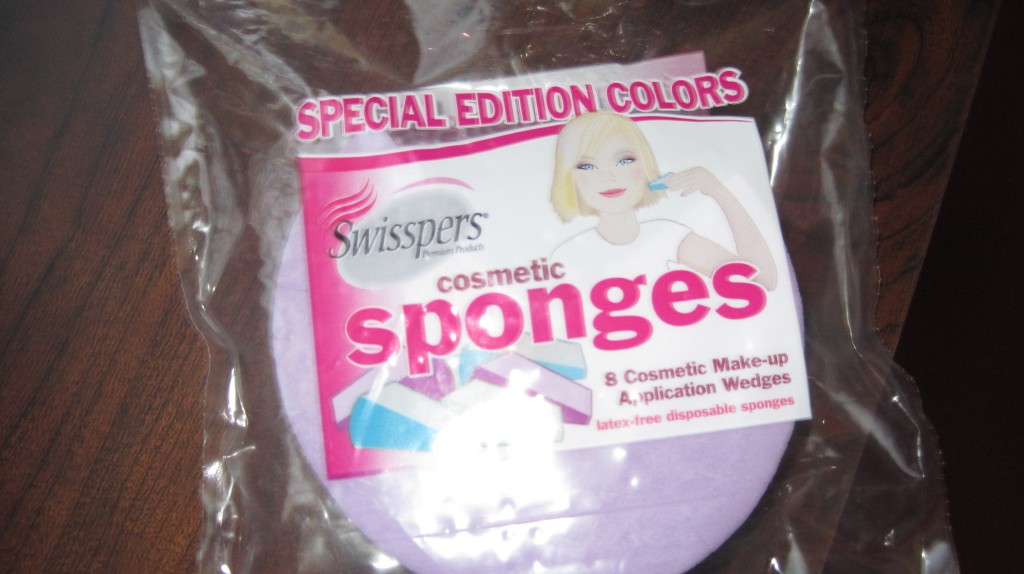 These are the softest, spongiest, densest makeup sponges I have ever used. Great for blending in under my eyes that get all crepey. Crappy, creepy, and crepey, that's me.
I know some of you may not believe me, and that all of these things cannot possibly be that different, but the Swisspers truly are a much higher quality, and not any more expensive than the generic brands, so why not put the highest quality applicators on your skin? Trust me, when you get old as dirt like me, you will thank me. I always told my son when he was younger, "take care of your face, and your face will take care of you". I'm pretty shallow like that.
SURPRISE!!!!*** Because I love each and every one of you, I am going to have my first ever GIVEAWAY! I did run to Wal-Mart, and bought the cosmetic sponges in blue, lime green, and purple. All you have to do is "Like" The Average Consumer on Facebook and/or follow on Twitter.  If you already follow The Average Consumer, leave me a comment about anything, your favorite product, an idea for the blog, suggestions, and I will do a random drawing and give away one set of these to three people. That's three winners! Limited to the United States only. I know, big giveaway, but you gotta start somewhere! Winners will be chosen by Friday at 5:00 p.m. Good luck!
***GIVEAWAY IS CLOSED.  Winners have been emailed. Thanks for playing! (9-14-2012 at 5:11 p.m.)