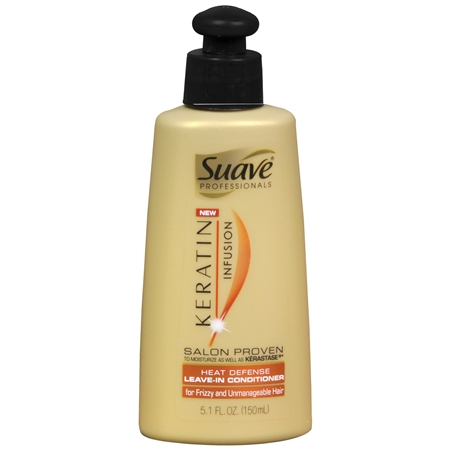 There is nothing that makes me happier than finding a product that I love that is CHEAP! Walking down the aisle of my favorite mega store, I noticed this 5 ounce bottle of Suave Keratin Leave In Conditioner, under $2.50, and thought, "what the hell". I talk to myself a lot. I'm very entertaining.
I hear all the time about Keratin, and how great it is for your hair, so even if I didn't like this, I wasn't going to be out a lot of money. Guess what? I love this stuff. Now you must listen, and listen carefully, because I have tested this for you. Put the teeniest, tiniest amount of product in your palm, a dab, a milimeter. Smaller than small. Then rub the product in your palms and then run through your dry clean hair. It's better to start off slow instead of do what I did, was put a little plop in my hands and then run through my hair only to end up with seriously greasy hair. The directions call for a "dime-sized" amount. That is about 100 times too much. Maybe it's just me, but start off slow. There are two great things about this product. One is that it really does leave my hair a little shinier and softer. Smooths out those flyaway frizzies. The second thing is that as little as I need of this product, I figure this 5 ounce bottle is going to outlast me. Think I should leave it to someone it in my Will?
From Suave:
This dual-action lightweight formula, enriched with KERALOCK TECHNOLOGY, both infuses keratin inside the hair fiber for ultimate moisturization and helps protect hair while heat styling.
Infuses keratin & seals cuticles for:
Advanced protection from heat damage
Frizz control for up to 48 hours
Smooth & manageable hair, easy styling
What is your favorite hair care product? You know I love to hear from you!