Today I'm sharing two of my sister's favorite cookie recipes. She has a big Christmas cookie swap every year and these are two she always makes.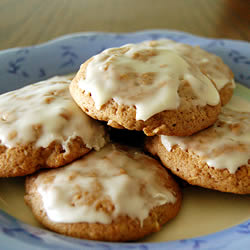 Heather's Glazed Apple Cookies
1/4 cup shortening
1/4 cup butter
1 egg
1 tsp vanilla
2 1/2 cup flour
1 tsp soda
1/2 tsp salt
1 tsp cinnamon
1 tsp cloves
1/2 tsp nutmeg
1/4 cup milk
1 cup chopped nuts
1 cup peeled, chopped apples
1 cup raisins
Cream first three ingredients; add egg and vanilla. Sift dry ingredients into creamed mixture. Add remaining dry ingredients alternately with milk. Stir in nuts, apples, and raisins. Drop by spoonfuls on a cookie sheet and bake 8-10 minutes at 400 degrees.
1 1/2 cup powdered sugar
1 tsp vanilla
2 tbsp or more of milk until it is the right consistency
Drizzle glaze over cookies when they come out of the oven.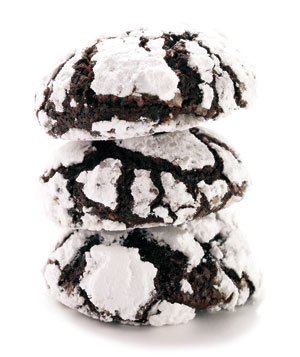 Heather's Chocolate Crinkles
2 cup sugar
3/4 cup vegetable oil
3/4 cup Hershey's unsweetened cocoa
4 eggs
2 tsp vanilla
2 1/3 cup flour
2 tsp baking powder
1/2 tsp salt
Powdered sugar
Mix sugar, oil, and cocoa
Blend well, beat in eggs and vanilla
Stir together baking powder, salt, and flour and add to mixture
Refrigerate 6 hours
Roll into balls and then roll in powdered sugar
Bake at 350 for 12-14 minutes
Maybe she'll bring some over to my house to test for you? A gal can dream . . .