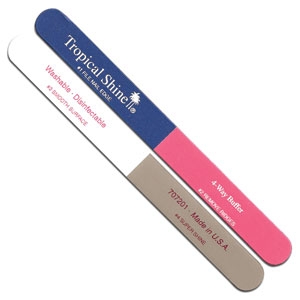 I restocked on these nail buffers at Sally's Beauty Supply, and realized I never shared with you. Please forgive me.
The reason I love these so much is, obviously, because it has four different tools in one. I can file my nails, remove the ridges on the tops of my nails (I have one nail, always ridges, is that a sign of anything? Chocolate deficiency maybe?), smooth the surface, and then make the little suckers shine like mad. No polish needed. This time of year you are lucky to get that. My hands are constantly cooking, cleaning, decorating, or wrapping. Polish is a waste of time.
Another great thing is that you can just run a little soap and water over these and they are as good as new. Gets rid of that chalky residue after filing. Now, they don't last forever, they aren't meant to come with a lifetime warranty, but they do last a good long bit. I picked up four this morning for $3 each, and I got a $5 off coupon for my next visit. Score!
They make a great stocking stuffer!