Want to make something wonderful for Christmas? Something that no one will guess was as easy as it is to make? I started making Paula Deen's Foolproof Standing Rib Roast a few years back, and my family now insists we have this every Christmas. It is so delicious, and so simple. You have to follow the instructions exactly. If you do, I promise, it really is foolproof! Read ahead. You cannot, CANNOT open the oven for four hours so make your side dishes accordingly! You need to allow at least five hours in total for cooking.  I hope this becomes a family favorite for you too!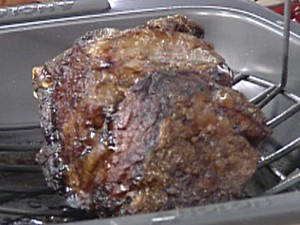 1 (5-pound) standing beef rib roast
1 tablespoon House Seasoning, recipe follows
Preheat oven to 375 degrees F.
Allow roast to stand at room temperature for at least 1 hour. Rub roast all over with the House Seasoning. Place roast on a rack in a pan with the rib side down and the fatty side up. Roast for 1 hour. Turn off oven. Leave roast in the oven but do not open oven door for another 3 hours. About 1 hour before serving time, turn oven to 375 degrees F to reheat the roast.
Cook's Note: Do not remove roast or re-open the oven door from the time roast is put in until ready to serve.
House Seasoning:
1 cup salt 1/4 cup garlic powder 1/4 cup ground black pepper Mix ingredients together and store in an airtight container for up to 6 months.
Yield: 1 1/2 cups