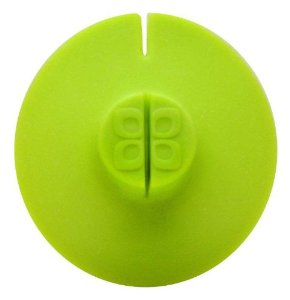 This is one of the handiest little gadgets I have. I found it over a year ago, and use it every time I make hot tea.  Which lately has been often. Allergies. Draining. Hot tea. The Tea Bag Buddy
 is easy to use. Once you have your tea bag and water in the cup or glass, simply place this silicone cover over the top. You can place the tea bag strings in the slit on the top, so you don't have to fish them out of the hot water. Once you have seeped the tea to your desired strength, you can flip the Tea Bag Buddy over, and squeeze the cover to get all the tea wonderness into the cup before easily tossing it, without ever touching the tea bag. You know I love clever products!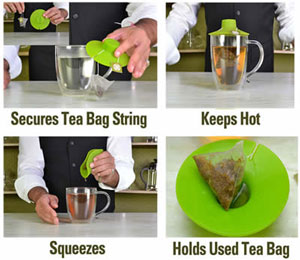 From the developer:
The Tea Bag Buddy is a fantastic new item for hot tea drinkers. The Tea Bag Buddy provides a convenient way to secure a tea bag's string without the drinker holding it. Instead, it is placed over the mouth of a tea pot or mug, trapping the hot steam below while keeping the string and tea steeping in the cup or pot. This promotes better brewing temperature and provides for optimal flavor. Then, when you're done steeping your tea, simply lift and squeeze the Tea Bag Buddy to trap the bag and its wet contents inside. The Tea Bag Buddy is made of 100% silicone so it keeps the tea drinker's fingers cool while squeezing excess water from the tea bag. The Tea Bag Buddy's deep well also provides a convenient way to hold the used tea bag between uses. This helps with unnecessary messes. It's sure to become a tea drinker's new best friend.
This also makes a great gift so I would purchase several. Then when you have a friend who is sick, you can take them your favorite tea, a cute cup, and this handy cover. I bet they feel better immediately!