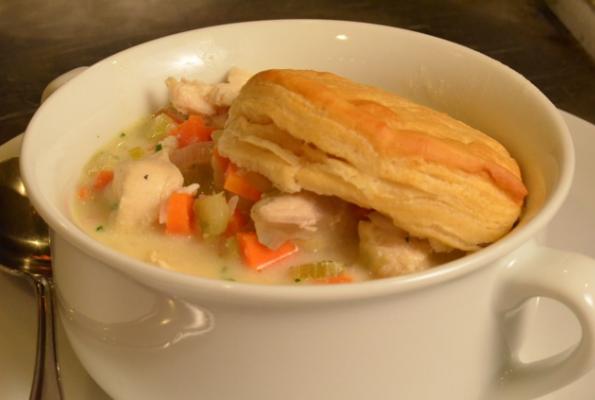 I love crock pot recipes. Especially the ones where I don't have to do too much prep work. And who doesn't love chicken pot pie? Here's a yummy version you can make in the crock pot.
Crock Pot Chicken Pot Pie (from mytexastoday.com)
3 – 4 large boneless chicken breast – chopped into one inch cubes
3/4 cup white wine – any kind you have or whatever is cheap at the store
2 Tbs. all-purpose flour
1 cup heavy whipping cream
2 cans chicken broth
3 cloves garlic – minced
2 lg. carrots – chopped
3 celery stalks – chopped
2 lg. shallots – chopped
2 Tbs. fresh parsley – chopped
1 10.2 oz can Pillsbury Grands Original Flaky Layers refrigerated biscuits
Chop all vegetables – carrots, celery, garlic and shallots.
Chop chicken breast into 1" cubes.
Whisk together wine, flour, whipping cream and chicken broth.
Place chicken and vegetables in crock pot.
Pour whisked liquid over chicken and vegetables.
Give it a good stir and salt/pepper to taste.
Set crock pot on low to cook for 6 – 7 hours or on high for 4 – 5 hours.
30 min before finished set oven at 350 degrees to cook biscuits.
While biscuits are baking, fold chopped parsley into chicken mixture.
Serve in bowls with biscuit. Serves 4