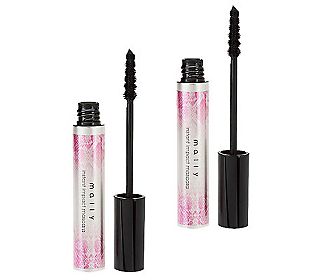 Ladies, RUN, don't walk, to QVC and order Mally Instant Impact Mascara Duo. The item number is A230563. I would give you a direct link but I sent it to a friend to test the link and it doesn't work. I don't want you to miss out on this stuff so just search "Mally Instant Impact Mascara Duo".  Double check the item number and order. I received this mascara as part of a set from Mally a few months ago and have been checking constantly to see when it would come out by itself. Years ago my favorite mascara was Mally, and I even gave it as a gift to some of my friends because I loved it so much. Then they changed the formula and I fell out of love with it. Now comes this new Instant Impact Mascara and it is EVERYTHING. Want to know how great it is? Me, the gal who uses 4-5 different mascaras at one time now only uses this along with the Cover Girl Lashblast Clump Crusher, and I really just use that as a primer. I don't know if it is the specially cut lash brush that is doing the trick, or the mascara formula, or a combination, but my eyelashes have never been longer or fuller. There is no flaking, and one coat really does the trick. I quadruple love this stuff and could not wait to tell you all about it.
The Mally brand is also sold at Sephora and beauty.com, but I do not find this particular mascara on their sites yet. Sometimes QVC gets the exclusive rights to a product for a period of time, and I think that may be the case here. So while it may show up at other stores later, it appears QVC is the only place to get it for now.
Let me know if you order it what you think of it!