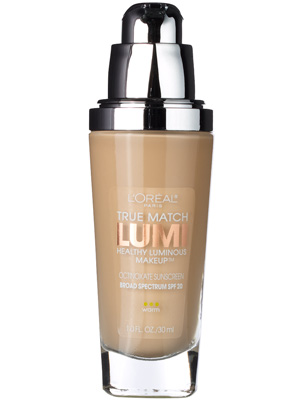 My new foundation fav is the L'Oreal True Match Lumi Healthy Luminous Makeup
. That's quite a mouthful! See the word "lumi" in the title. That's what hooked me. I saw an ad in a magazine that it promised to illuminate my skin and make it all dewy and youthful. That's what us old hags want. The dream of still looking dewy and yootful. A girl can dream.
From L'Oreal:
Finally, makeup that creates skin so healthy – it's luminous! True Match™ Lumi Healthy Luminous Makeup combines 3 powerful ingredients that work to improve your complexion the more you wear them. 40% pure water for all-day hydration. Antioxidants and Vitamins C and E for improved clarity and skin tone. And Liquid Light Technology for an instant, luminous glow. Isn't it time you met your match?

See the Results:
Instantly: skins illuminated.
In 1 Month: skin is clearer, healthier, more luminous

Finish: Luminous
SPF: 20
Coverage: Lightweight, buildable coverage that lasts up to 8 hours
Skin Type: For all skin types. Safe for sensitive skin.

Available in 15 true-to-skin shades in warms, neutrals, and cools.
I have the shade "N1-2 "soft ivory/classic ivory". I love the SPF 20 protection, as I usually don't tan, I just burn and get more freckles. I love the coverage, lightweight but it does cover and last all day. I also, thankfully and happily, do see a dewy, glowy, youthful finish. Makes me smile.
Currently there is a buy one/get second 50% off special for L'Oreal on drugstore.com, and you can find these types of deals often at CVS and Walgreens for most brands.