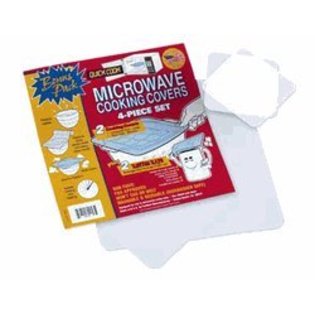 I love these Microwave Splatter Covers
. They come in a set of four: 2- 5″x5″, 1- 7″x7″, 1- 9″x9″, and are under $8. I prefer these to using a paper towel that ends up becoming part of the food, if you know what I'm saying! Also, they are vented, so the steam doesn't build up. The covers keep lots of stuff from splattering all over my microwave, and once I use it, I can either rinse it off or toss in the dishwasher. They are transparent so I just stack mine against my backsplash next to the microwave for quick access.
So let's recap this long, lengthy post:
Saves you from using paper towel;
Saves you from using more paper towels to clean up the splatter mess inside the microwave;
Very inexpensive;
Very handy.
I think that just about covers it! Oh, this would be a great stocking stuffer! I know, I know, months and months away but these things just come to me. Oh, and if you search "stocking stuffer" on my search bar above, you will see all articles where I have said, "oh, and this would be a good stocking stuffer".  You'll appreciate that come November, December.