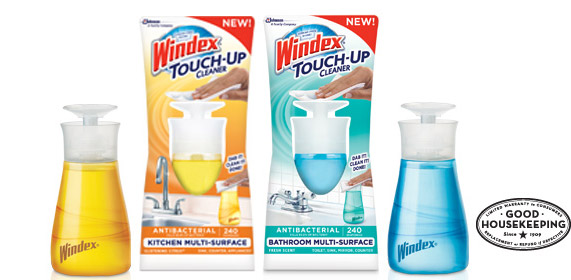 My new favorite cleaning product is the Windex Touch Up Cleaner
. I have granite countertops. If you don't have granite countertops and no one ever told you about granite countertops, they always feel gritty. ALWAYS. So I am constantly getting the granite countertop wipes out from under the counter and wiping down the countertops. I have OCD about these things, you know this. And my granite is sealed, which means I cannot use just any product on it, because it will strip the seal. So the first thing I made sure of was that these little puppies would work on sealed granite, AND THEY DO!
Imagine how happy I was when I found these cute little pumps? I originally fell in love with pump containers when I found the Cutex nail polish remover. Since then I have purchased several of these sort of pumps at Sally's Beauty Supply to store my eye makeup remover and toner. I think these types of pumps keep the product in tact without your eye makeup, or fingernail polish, or gunk getting back into the product when you double dip your cotton pads.
In this case, I love this pump because it can sit out on my kitchen counter, and I can quickly grab a paper towel, give it a few pumps, and clean off the countertops. They have one for the bathroom too! How happy am I? I can clean even more now! 
From Windex:
Quickly cleans and sanitizes your frequent messes.​​​
Keeping your kitchen and bathroom clean is now easier than ever. Introducing the revolutionary, Windex® Touch-Up Cleaner. Designed to be left out and readily at-hand, this cleaner allows you to quickly clean and shine your most used surfaces. Not only does it kill 99.9% of bacteria*, it also offers great fragrances for your kitchen and bathroom. Just Dab it. Clean it. Done.™

Available in Glistening Citrus® for the kitchen and Fresh Scent for the bathroom.

*When used as directed kills Klebsiella pneumoniae, Listeria monocytogenes, Staphylococcus aureus (Staph), Streptococcus pyogenes (Strep).

Works on:
Countertops like Corian®, sealed granite, marble (real or synthetic), Formica®

Exterior surfaces of appliances like microwaves, stovetops.

Kitchen sinks

Stainless steel​

Chrome

Glazed ceramic tile

Windows

Plastic

Vinyl

Finished Wood

Glass

And more