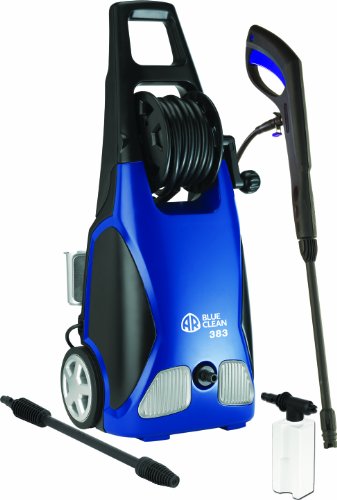 Time to get outside and do some cleaning! I have paid professionals to pressure wash my house, driveway, and sidewalks before and now I can do it myself! I purchased the AR Blue Clean 1,900 PSI Electric Pressure Washer with Hose Reel
 a month ago and cannot tell you how much I love it! It's $154, and it paid for itself in one use because in the past I have paid a professional service over $200 to do the same thing! I love this little sucker! It got all the black off my sidewalks, all the dirt off my patio and patio furniture, cleaned my windows, and even got rid of a few mildew spots that I have around a certain area of my brick.
My husband and I were actually fighting over who could use it! And you would think it would use a lot of water but it really uses very little water. At the end I thought I would be soaking wet but was dry as could be. It is very lightweight and comes on wheels so it is easy to maneuver around as long as you are close to an outlet and have a long hose!
I really wish I had stopped to take my own pictures, but I found this one online that someone submitted to Walmart, and even though my sidewalks weren't quite this black, they did get all the gunk off of them!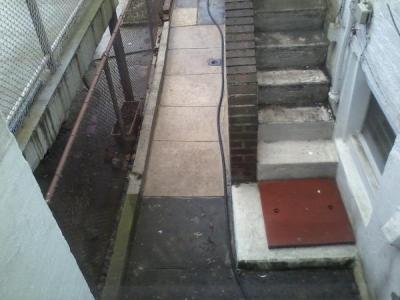 So simple to use, and I love that it comes with several settings, so you can really REALLY clean the sidewalks with the highest power setting, but still clean your windows without worrying about breaking them! Okay, I wasn't really worried. But it is a powerful little sucker, and the next day, even though very easy to use, my arms were very sore, which meant I got in a good workout!
It's currently at my son's house because he is about to put his house on the market, and wanted to get his outside as spotless as mine! I bet his house sells in no time. I hope he remembers to give  me my pressure washer back!
I purchased mine through QVC, but you can find them at amazon.com, or at Sears or Walmart if you want to go look at one in person. This would make a GREAT Father's Day gift!