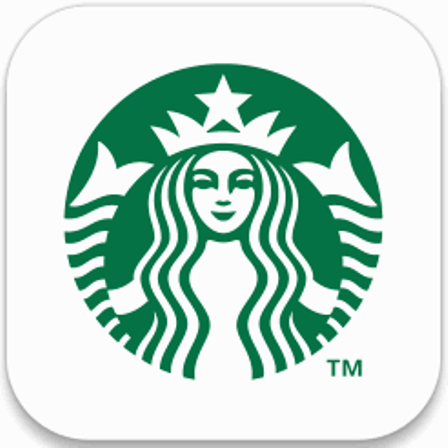 I've had the Starbucks app on my iPhone for years. I love it for many reasons, and I was surprised I hadn't told you about it before. Recently though, Starbucks got pretty dang smart and in addition to offering a free song of the week to download, they have started offering free apps to download! So this week's app of the week is an app that has apps of the week! Fun!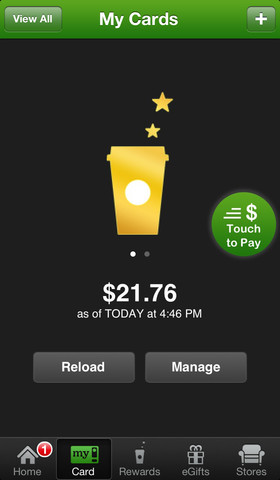 Not only can you keep up with your balance on your Starbucks card, from the app you can reload your balance, and another favorite of mine is to send egifts! Gift cards to all your friends whether they are sick, or having a birthday, or having a bad day, immediately they get an egift card from you to them – and, Starbucks has several designs of ecards to choose from.
If you are in a new area, the Starbucks app will help you quickly locate the nearest Starbucks so you can get your fix. You can also pay for your purchase at Starbucks directly from the app. What will they think of next?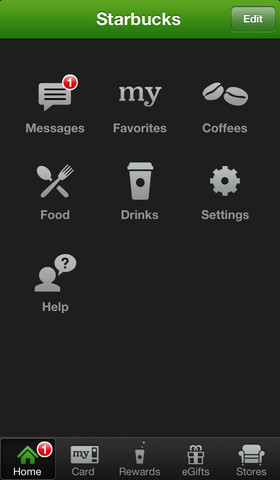 Another great feature is you can look through the Starbucks menu for food and assorted coffee concoctions, and save your favorites. It will also give you all the nutritional information so if you are counting calories it's easy to decide to skip the bakery but a skinny frap is okay!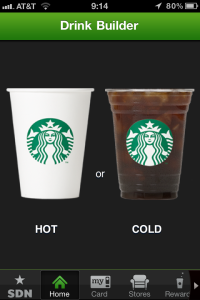 From Starbucks:
The official iPhone application from Starbucks! In addition to paying from Starbucks for iPhone, you can now add a Starbucks Card to Passbook. It's the fastest way to pay at Starbucks – just scan and go!

With Starbucks for iPhone, you can manage your Starbucks Card balance, reload your card, track your Stars in the My Starbucks Rewards program and send an eGift to a friend. And there's more!

Our easy-to-navigate store locator points you to the closest store and lets you search by amenities. You can also explore our whole bean coffees, find nutrition information and build your own perfect drink. And if you feel like being social, you can share your location or favorite drinks through Facebook and Twitter.

Features:
• My Cards: Pay with your iPhone/iPod Touch at 6,800 U.S. company-operated Starbucks and 2,000 Target and Safeway locations. Check your Starbucks Card balance, reload your card, view your transaction history and transfer balances between cards.
• Add your Starbucks Card to Passbook.
• My Rewards: Track your Stars in the My Starbucks Rewards program.
• eGift: Send an eGift to a friend via email or Facebook wall post.
• Messages inbox to receive Starbucks notifications and special offers.
• Store Locator: Find the closest stores, directions, store hours and amenities.
• Drink Builder: Create and share your perfect Starbucks beverages.
• Food Menu: Browse our delicious food menu and see nutritional info and ingredients. Use filters to help find foods that meet your health and wellness needs.
• Coffee Menu: Explore Starbucks whole bean coffee and find your perfect cup. Starbucks Roast Spectrum sorts our coffees by three roast profiles to help you find the flavor and intensity that is perfect for you.