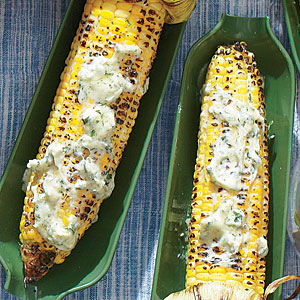 I could eat corn on the cob every day in the summer and never tire of it. Especially if it is covered in this yummy butter. Fun, easy recipe from my beloved Southern Living Magazine.
Charred Corn With Garlic-Herb Butter
8 ears fresh corn, husks removed
Extra virgin olive oil
Garlic-Herb Butter (recipe below)
Sea salt and freshly ground black pepper
Garlic-Herb Butter
1 (5.2-oz.) container buttery garlic-and-herb spreadable cheese (such as Boursin), softened
1/2 cup butter, softened
2 teaspoons minced curly leaf parsley
Sea salt to taste
Freshly ground black pepper to taste
Stir together cheese, butter, parsley, and sea salt and freshly ground black pepper to taste.
Preheat grill to 350° to 400° (medium-high) heat. Brush corn with olive oil. Grill corn, covered with grill lid, 20 minutes or until charred, turning every 4 to 5 minutes. (Some kernels will begin to char and pop.) Remove from grill; brush corn with Garlic-Herb Butter. Sprinkle with salt and pepper to taste. Serve immediately with remaining butter.