I couldn't narrow this down to just one Thanksgiving recipe app, so I'm sharing what I thought were the top two great (free) apps with loads of Thanksgiving recipes: Thanksgiving Menu Maker and Bon Appétit Thanksgiving.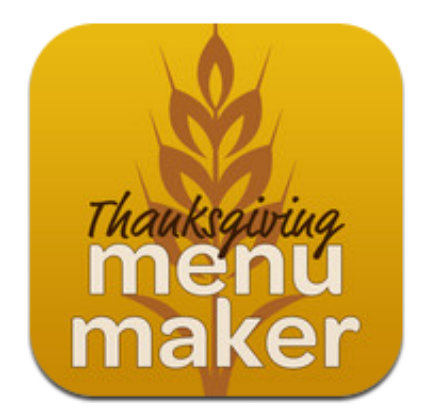 The first is the Thanksgiving Menu Maker app from Fine Cooking. This one not only has some great recipes, but it also gives you the grocery list for the recipes, AND it gives you a timeline for what recipes you can make ahead.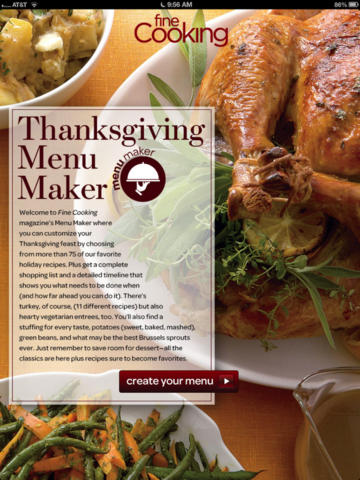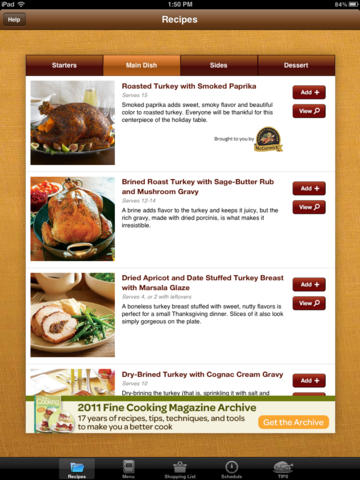 From the developer:
Make this Thanksgiving the best ever with our FREE Menu Maker. Tap your way to a customized holiday menu from more than 75 of our all-time favorite Thanksgiving recipes, plus get a customized shopping list and schedule.

Our Menu Maker is super simple to use. Recipes are divided among courses: Starters, Main Dishes, Sides, and Dessert. Recipe selection screens allow you to quickly see what's available within each course. There are turkeys (perhaps obviously) and a dozen delicious ways to cook them—iconic whole roasted birds slathered with herb-butter, pancetta-wrapped turkey breast for a smaller crowd, and even a smoked turkey on the grill. There are also hearty vegetarian entrees featuring fall flavors to insure that everyone feels welcome at the table.

You will also find lots of sensational side dishes, including fragrant stuffings (or dressings, if you prefer), colorful cranberry sauces, and potatoes of all kinds: mashed, smashed, baked, and more. Plus green beans, turnips, and what may be the best Brussels sprouts ever. And because it's not Thanksgiving without pie, we've got 'em all: apple, pecan, and pumpkin, plus tarts, cakes, and crisps, too.

Because all of the recipes are contained within the app, you can access the recipes without internet access, a bonus for anyone planning to get away from it all this holiday.

Once you have created your menu, tap on the Shopping List for a handy list of every ingredient you'll need. Shop with your iPad in the cart and check off items on the screen as you go. Or email the list to yourself and print it to make your notes or additions on paper.

When you are ready to start cooking, simply tap Schedule to see a list of what needs to be done for your Thanksgiving dinner. Check this page well before the big day to see what you can do ahead of time—a huge help for planning the meal.

In addition to all of the delicious recipes, the shopping list, and the schedule, you will also get BONUS CONTENT on Finecooking.com with all the tips, techniques, and advice you need to make this holiday meal the best ever.

• How-To Videos — on everything from brining a turkey to perfecting pie crust

• 21 Turkey Tips — from which pan to use for roasting turkey to what temperature to cook the bird to, we have you covered

• What to Drink — perfect wine pairings made easy plus seasonal cocktails

• Thanksgiving 911 — the top 10 holiday-food disasters and how to fix them

• PLUS: buttery dinner rolls, hundreds more recipes, and what to do with all those leftovers!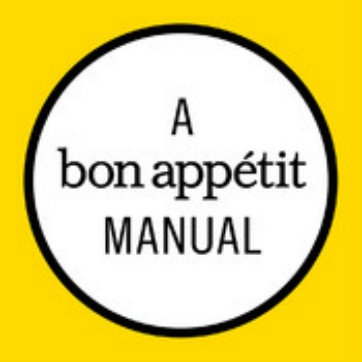 Next up is the Thanksgiving Manual from Bon Appétit, which contains 101 recipes, plus tips, how-tos, and videos from the Bon Appétit Test Kitchen.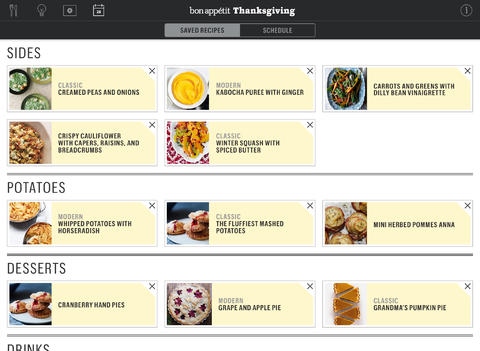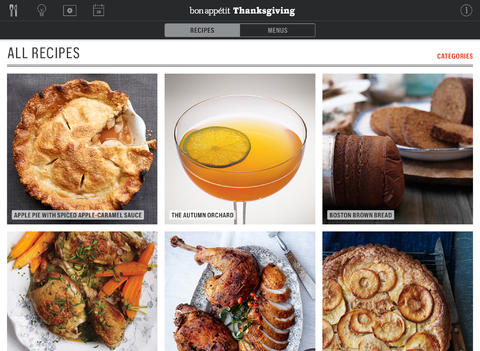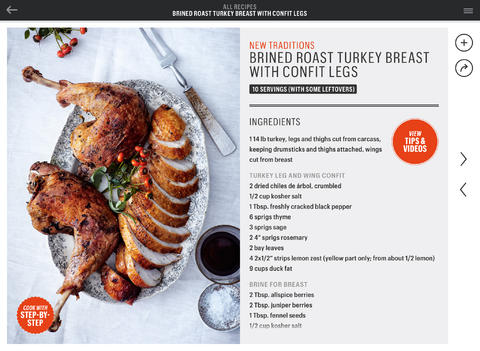 From the developer:
At BA, we start talking (and eating) Thanksgiving in early August. It can be confusing when you're arguing the merits of, say, dressing with sausage over dressing with oysters while it's 90 degrees outside and you're thinking about the tomato salad you're going to have for dinner. But eventually, we get into the holiday spirit and before you know it we're dreaming of roasted birds with lacquered skin and gratins and mashed potatoes and pecan pie and remembering all the great recipes we've done over the past few years. Then someone says: "Gosh, I wish there were one place where all that stuff—the recipes, the tips, the photos, ALL OF IT—was available. Like, a manual for Thanksgiving!" Then it hit us: We should do an app.

And so we did.

The first step: Narrowing down our recipes to a catchy 101. Everything from classics like Sam Sifton's Herb-Roasted Turkey to more "out of the box" treatments, like 2011′s Tandoori Turkey (wow, was that good.) We did this for every category, from sides to pies to potatoes to desserts and more.

Then we collected all the best advice that the BA Test Kitchen has ever given us, and linked it up with the appropriate dishes. Want to know how to crimp the edges of that apple pie? Tap on the "View Tips & Video" button and—boom—there's the step-by-step instructions. We even shot nine new technique videos.

Next, because your Thanksgiving is only as good as the planning that goes into it, we put together a scheduling tool that breaks down all the tasks that go into the meal. If it's the week before the feast, you'll know that you should be setting out and labeling all of your serving platters. (No, really. You should be.)