Here it is boys and girls, some great Christmas cookie recipes I found for you all over the web.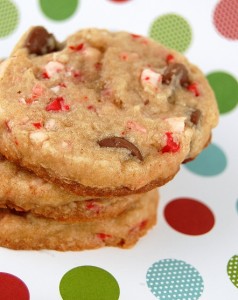 Peppermint Crunch-Milk Chocolate Chip Cookies (from Culinary Concoctions by Peabody)
2 ½ cups all-purpose flour
¾ tsp. baking soda
1/8 tsp. salt
1 cup unsalted butter, at room temperature
1 cup packed light brown sugar
¾ cup granulated sugar
1 tsp. vanilla extract
2 large eggs, at room temperature
7 ounces milk chocolate chips
7 ounces Andes Peppermint Crunch Chips
In a small bowl, whisk together the flour, baking soda, and salt; set aside.
Using a stand mixer fitted with the paddle attachment (or in a bowl by hand), beat together the butter, brown sugar, granulated sugar, and vanilla on medium speed just until smooth, about 2 minutes.
Beat in the eggs one at a time until thoroughly incorporated, then stir in the flour mixture followed by the chocolate and peppermint chips.
On a lightly floured work surface, divide the dough into quarters. Shape each quarter into a log about 9 inches long. Wrap the logs in plastic wrap and refrigerate until firm, preferably for 24 hours (do this part for real please).
Position racks in the upper and lower thirds of the oven; preheat the oven to 350°F. Line 2 baking sheets with parchment paper or silicone baking mats.
Slice the logs into disks ¾ inch thick and place the disks 3 inches apart on the prepared baking sheets. If the chips crumble out (and they will), simply push them back in, they reshape nicely.
Bake, rotating the baking sheets midway through baking, until the cookies are very lightly browned in the centers, about 10 minutes. If you like soft chocolate chip cookies, as I do, err on the side of underbaking.
Let the cookies cool on the baking sheets until firm enough to handle, then use a spatula to transfer them to a wire rack.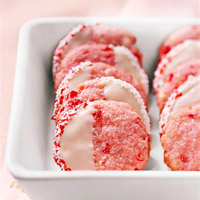 White Chocolate Cherry Shortbread (Better Homes and Gardens)
1/2
 cup maraschino cherries, drained and finely chopped
2 1/2
 cups all-purpose flour
1/2
 cup sugar
1 cup cold butter
12 ounces white chocolate baking squares with cocoa butter, finely chopped
1/2
 teaspoon almond extract
2 
drops red food coloring (optional)
2 
teaspoons shortening

White nonpareils and/or red edible glitter (optional)
Preheat oven to 325 degrees F. Spread cherries on paper towels to drain well.
 In a large bowl, combine flour and sugar. Using a pastry blender, cut in the butter until mixture resembles fine crumbs. Stir in drained cherries and 4 ounces (2/3 cup) of the chopped chocolate. Stir in almond extract and, if desired, food coloring. Knead mixture until it forms a smooth ball.
 Shape dough into 3/4-inch balls. Place balls 2 inches apart on an ungreased cookie sheet. Using the bottom of a drinking glass dipped in sugar, flatten balls to 1-1/2-inch rounds. 
Bake in preheated oven for 10 to 12 minutes or until centers are set. Cool for 1 minute on cookie sheet. Transfer cookies to a wire rack and let cool.
In a small saucepan, combine remaining 8 ounces white chocolate and the shortening. Cook and stir over low heat until melted. Dip half of each cookie into chocolate, allowing excess to drip off. If desired, roll dipped edge in nonpareils and/or edible glitter. Place cookies on waxed paper until chocolate is set. Makes about 60.
Storage: Layer cookies between waxed paper in an airtight container; cover. Store at room temperature for up to 3 days or freeze for up to 3 months.
Nutritional Information: Servings Per Recipe 60, Calories 87, Protein (gm) 1, Carbohydrate (gm) 9, Fat, total (gm) 5, Cholesterol (mg) 9, Saturated fat (gm) 3.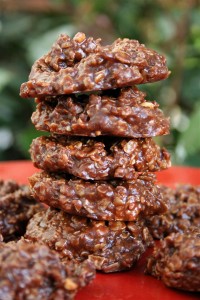 Chocolate Oatmeal No Bake Cookies
*
(morganmoore.typepad.com)
1/2 C Butter 2 C Sugar 1/2 C Milk 4 Tbsp Cocoa 1/2 C Peanut Butter 3- 3 1/2 C Quick cooking Oats 2 tsp. Vanilla
Add the first 4 ingredients in a saucepan. Bring to a rolling boil, and boil for 1 minute. Stir in the next 3 ingredients and drop onto wax/foil paper. Let cool until set. *I used to make these years and years ago and had completely forgotten about them so was thrilled to find this recipe!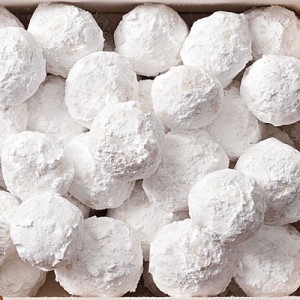 ALMOND SNOWBALLS

(Southern Living)
  1/2 cup slivered almonds 1 cup butter, softened  1 teaspoon vanilla extract  1 cup powdered sugar 2 1/2 cups all-purpose flour  1/4 teaspoon salt  Parchment paper 1/2 cup powdered sugar   Preheat oven to 350°. Bake almonds in a single layer in a shallow pan 6 minutes or until toasted and fragrant, stirring halfway through. Cool completely (about 20 minutes). Reduce oven temperature to 325°.   Process almonds in a food processor 30 seconds or until finely ground.   Beat butter at medium speed with a heavy-duty electric stand mixer until creamy.
Gradually add vanilla and 1 cup powdered sugar, beating well. (Dough will be crumbly.)
Combine flour, salt, and almonds; gradually add to butter mixture, beating until blended.
Shape dough into 3/4-inch balls, and place 2 inches apart on parchment paper-lined baking sheets.
Bake at 325° for 12 to 15 minutes or until edges are lightly browned. Cool on baking sheets 2 minutes. Transfer to wire racks, and cool 10 minutes. Roll cookies in 1/2 cup powdered sugar.
I think I have gained about 10 pounds just typing up these recipes! Hope you enjoy!