If one of your resolutions this year is to be more organized, there's an app for that!
If you are forgetful, and need a reminder to check your list of stuff to do, this app is also great because it will send you a daily alert to remind you to remember!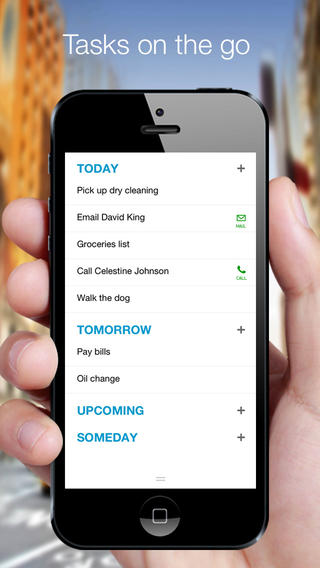 It allows you to sync with your own calendar and share events or appointments. It also has location reminders, so if you are in a certain area that you need to remember to do something, it will send you a notice to remind you that you are in that area! Seriously, for some of you this may be overkill, but for some (me) this is a great, and did I mention FREE, app!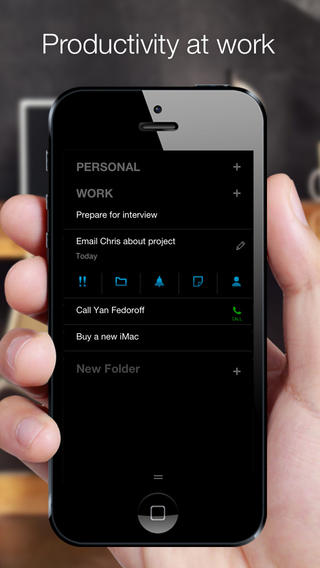 From the developer:
Millions use Any.DO every day to remember all the things they want to do and make sure to get it done. Key features: Seamless cloud sync, Speech recognition, Time & Location Reminders, Any.DO Moment, Folders, Notes, Repeating Tasks, Calendar view, Gesture support & more!

An award winning app:
• Best apps of 2012 in the AppStore • Top 10 MUST-HAVE App by (NY Times) • Best App of 2011′ (TechCrunch) • #1 MUST HAVE app (PC Magazine) • "Any.DO Is a Crazy Intuitive, Gesture-Based To-Do App" (Lifehacker) • NY Times, Huffington Post, CNBC, CNET, Engadget, Mashable and more •

Get the most out of Any.DO:

■ Beautiful & Functional – Any.DO is beautifully designed, simple to use and user friendly.

■ Always there when you need it – Any.DO syncs seamlessly with the cloud so you can stay on top of just about anything across all your devices.

■ Any.DO puts the power in your hands – Drag & drop to plan your agenda, swipe off a task to mark it as complete & shake your iPhone to clear your completed tasks. It just feels right.

■ Speak your mind – Instead of typing just tap the microphone icon and say what you want to do. Any.DO will automatically convert your words into text in almost any language.

■ Type less, DO more – Mobile typing can be a hassle; Any.DO's auto-suggest predicts what you want to do as you type it.

■ Any.DO works for you – Simply add a time or a location based reminder for the things you want to do and Any.DO will remind you just at the right time. You can even try some repeat options.

■ Better together – Share lists with your friends, family, and colleagues to accomplish even more. Here are some ideas: A shared grocery list with your spouse, plan an event with your friends or just make sure you're on top of an office project.

What makes our app sexy:

• Make it personal – Choose your favorite app theme (white or black).
• Just like real life – Swipe a task with your finger to mark it as complete.
• Shake it away – Shake your device to remove all completed tasks.
• Powerful planner – Plan your agenda in a monthly calendar view. Tilt your device to give it a try.
• Do it your own way – You can easily customize your folders, so you can organize your tasks to best suit your needs (for example: Work, Home, Errands). Plus, you can have as many folders as you wish.
• Focus on the things that matter – Set a priority with a simple tap.
• Your tasks, Your choice – You can switch between Date view (Today, Tomorrow, Upcoming & Someday) and Folder view, it's up to you.
• Mail tasks to do@any.do and see them in your Any.DO app.

• Any. DO is available in 12 different languages: English, French, German, Italian, Japanese, Korean, Dutch, Swedish, Spanish, German, Portuguese, Chinese (simplified & traditional) & Russian •