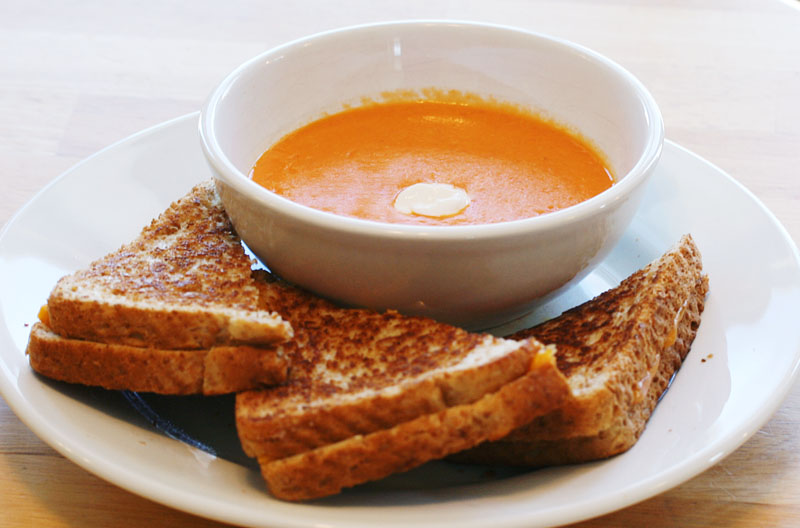 There is nothing better on a cold day than a Grilled Cheese Sandwich and Tomato Soup!
Here is a great recipe for Tomato Soup I found on tastykitchen.com. It's not as easy as opening a can of tomato soup, but it's worth it for the taste!
Amazing Tomato Soup
2 Tablespoons Olive Oil
1 Tablespoon Butter (NOT Margarine)
1 whole Medium Onion, Chopped
2 cloves Garlic
1 jar Canned Whole Tomatoes (about 28 oz)
1 Tablespoon Brown Sugar
3 slices Sandwich Bread
2 cups Chicken Stock (optional)
1 Tablespoon Heavy Cream (more Or less depending on desired consistency)
Chop onion and garlic. You will be blending or purifying this so it does not have to be too fine.
Cut up 3 slices of bread into 1-inch cubes.
Heat 2 tablespoons oil and butter in large pot or Dutch oven over medium-high heat.
Add the onion and garlic.
Cook, stirring frequently, until the onion is translucent, about 3 to 5 minutes. Stir in the tomatoes and their juice. Using a potato masher, mash until no pieces bigger than 2 inches remain. Stir in sugar and bread; bring soup to boil.
Reduce the heat to medium and cook, stirring occasionally, until the bread is completely saturated and starts to break down, about 5 minutes.
Transfer half of soup to a blender.
Process until soup is smooth and creamy, about 2 to 3 minutes. Transfer to a large bowl and repeat with remaining soup and oil.
OPTIONAL:
Rinse out the pot you cooked the soup in and return the soup to the pot.
Stir in up to 2 cups of chicken (or vegetable) broth until soup reaches desired thickness.
Or, add heavy cream to create a thick soup base perfect for dunking grilled cheese.
Season to taste with salt and pepper.
Optional garnishes include chopped parsley, fresh chopped basil, croutons, or a dollop of sour cream.