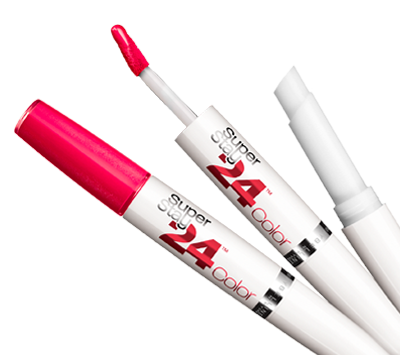 If you are looking for ALL DAY coverage on your pretty little lippies, look no further than Maybelline Superstay 24 Color. It truly does last a long time. I apply in the morning, and then just add a little gloss or balm over it throughout the day. It comes with the lip stain on one end and clear lip balm on the other. I must say it is very dry by itself, but it doesn't appear dry to anyone looking at you, so even when you haven't had a chance to add a little gloss to it during the day, it still wears like armor! It ain't goin' no where! Eat, drink, kiss, whatever, it stays on!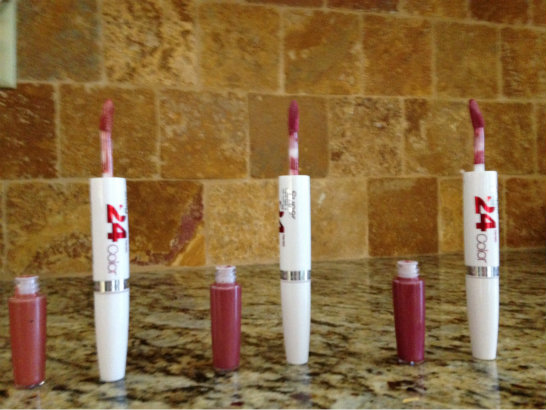 These are the three shades I have. I still am looking for the nudest color for the summer, which appears to be from looking at the chart to be So Pearly Pink. I haven't been able to find it in the any of the stores I've hit. The colors above from left to right are Timeless Toffee, Perpetual Plum, and Wear On Wildberry. I decided to show you what three of the colors look like in real life so you can compare to the chart of colors that Maybelline provides.
The doe-foot applicator wand is great too, especially if you have thin lips like me. My lips are the only thing on me that is thin and I wish it were the only thing on me that was bigger! The applicator aids in completely covering the lips without going outside the lines. And the color doesn't transfer onto anything once it's dried. I hate when I end up looking like a little old lady with the lipstick on my coffee cup or glass!
You can find this at any drugstore, superstore, or online, as usual, and it runs around $8-9 per tube.
From Maybelline:
NO OTHER LONG WEARING LIPSTICK LASTS LONGER. Period.
Our Micro-Flex formula glides on and looks gorgeous all day
Meet the 24-hour lip color that stretches the limits of longwear:

Micro-Flex formula glides on and looks gorgeous all day
No crumbling, no caking, no fading, no feathering, no transferring
2-step lip color in one pack
Apply the liquid lip color to your clean, bare lips. Allow a full two minutes to dry, then apply ultra-conditioning balm to seal in softness. Reapply balm as needed. Remove with an oil-based makeup remover.