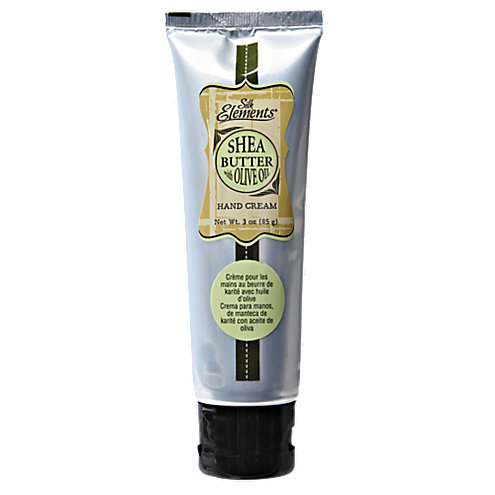 On a recent trip to Sally's Beauty Supply, I was in line behind a woman who was asking the clerk about a hand cream that would work on her dry hands and cuticles. She said she worked for the TSA at the airport and was constantly washing her hands, and was in desperate need for something.
The sales clerk recommended Silk Elements Shea Butter With Olive Oil, and actually got her own tube out to let the woman try it.  Well, I wasn't going to just stand there and not get a sample too!
Sometimes timing is everything, right?
So the clerk gave me a little dab of the hand cream and a little goes a long way.  It is a nice thick emollient, which has a pleasant scent. The tube is .3 ounces, so perfect for your purse, but pick up several, because you will want this on your nightstand, by your sink, in your purse, everywhere. AND did I mention the best part? It's about $3.50 a tube.
Okay, maybe the best part is really that it moisturizes your hands, without leaving any greasy residue. So you can lather up and go on with your business, without leaving a trail of grease behind.
The Silk Elements Shea Butter with Olive Oil will be hard to find unless you are a woman of color, so you need to either ask the clerk to help you locate it at Sally's Beauty Supply, or look in that area. Hence why it has been hidden from me for so long!
Trust me, and purchase this hand cream! Oh, and because the scent is more of a clean, spa-like scent, the guys will love it too!