About five months ago I wrote about the WellnessMats. At the time, I had the gel pro mats, and knew that the edges were going to curl up, and when they did I would replace with the WellnessMats.
The nice people at WellnessMats sent me some mats after reading my article. So, this is the first post where someone actually sent me something to review. And even though I am about to give them a glowing review, the fact that they sent them to me in no way influences my report. Promise.
There is absolutely no comparison between the two if you stand on them side by side. I actually had my friend Sally over this weekend and made her test out both, and she agreed that comparing the two is like comparing Neiman Marcus to Walmart. The gel pro mat isn't even in the same league. About the only thing that the gel pro mat has in common with the WellnessMat is the price. So why not spend your money on something that is going to last?
The WellnessMats are thicker and much more luxurious. It's like standing on a cloud!
I had no idea that my gel pro mats would only last a couple of years when I purchased them and paid well over $100 for each of them. Here is what they look like two years later: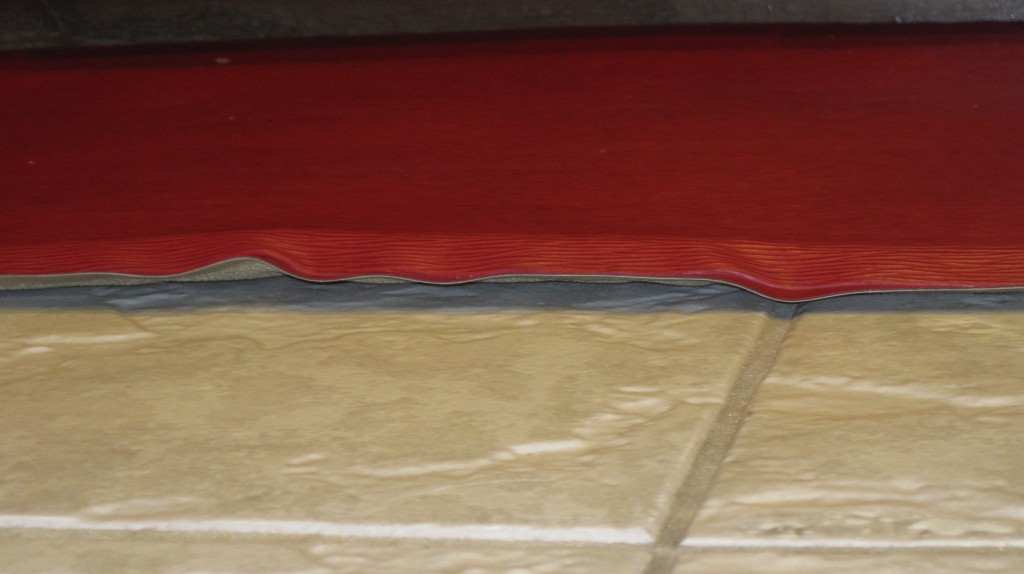 Guess who busted her rump on this thing?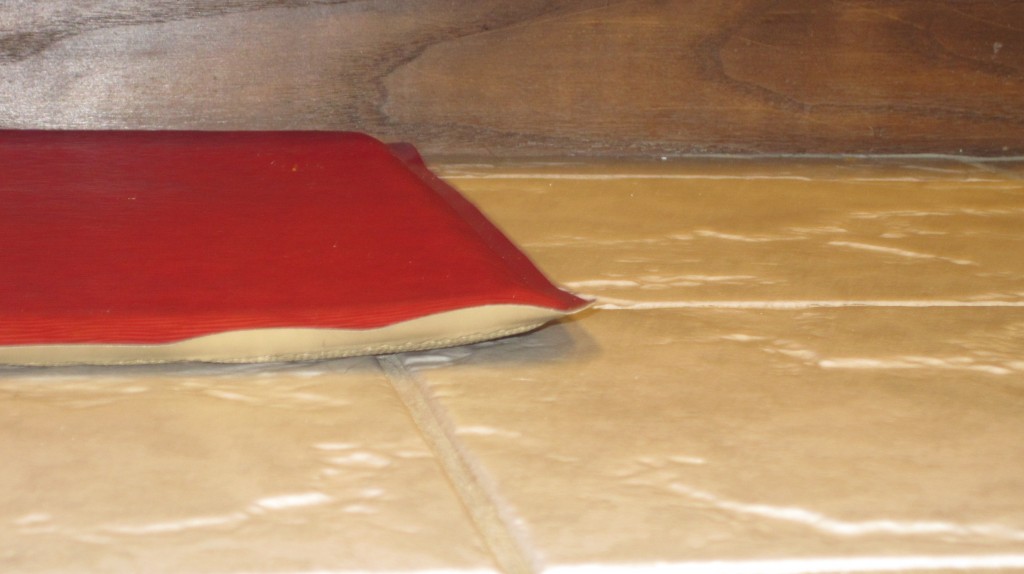 Thank goodness it wasn't someone else who might have sued me! One bad fall and I was done with the gel pro.
Now I have these wonderful, safe WellnessMats. You can tell just by looking at them that they will not curl up ever! An added unexpected bonus is they don't move! I was always moving the gel pro mats back because they would always slide out of place.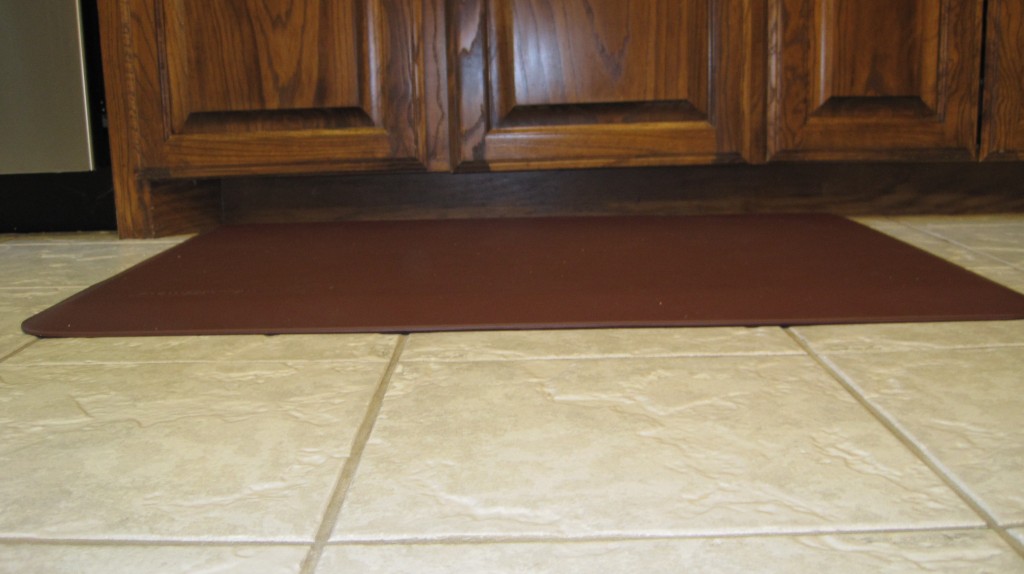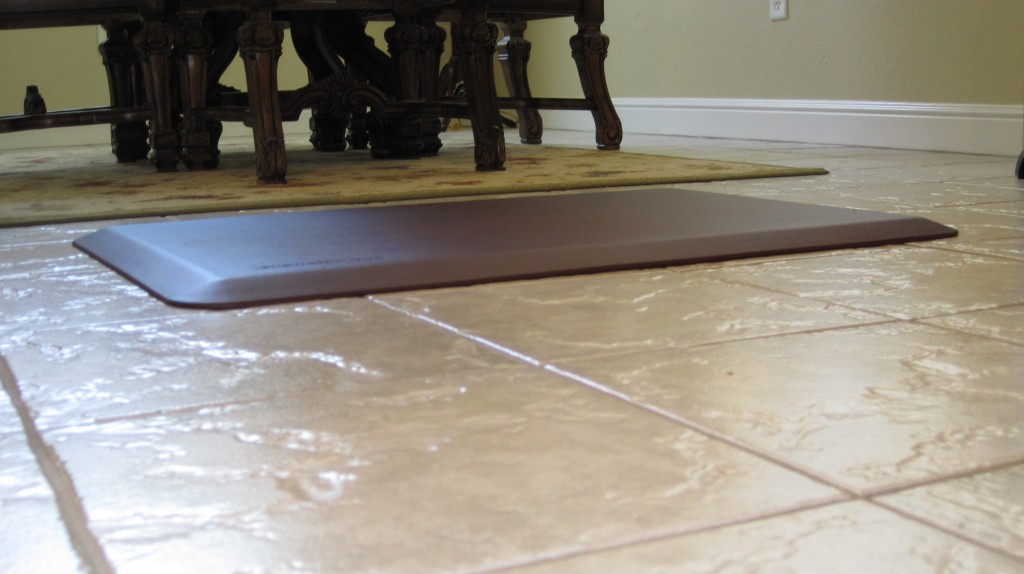 Another great thing about the WellnessMats is they are anti-fatigue and anti-microbial. If you have tiled floors, you are well aware at how much harder they are on your little footsies, not to mention the legs and back. Now that fall is around the corner, the best thing for a baker like me to have is the WellnessMat. I will be able to bake and bake and never tire of standing up for hours. Not to mention those holiday dinners! Oy vey do I slave over a hot stove for my family! If you spend any time in the kitchen, you need to have the WellnessMat. Last year on Christmas Eve my precious son went out and bought me a foot massager because those dang gel pro mats were not helping me, my legs and feet were killing me, and he knew if he wanted all his favorites cooked, he was going to have to help out, so that was his solution. Isn't he thoughtful?
From Wellness Mats:
WellnessMats are ergonomically engineered and medically proven to promote and increase proper circulation. As such, our unique anti-fatigue floor mats encourage better posture, muscle conditioning and improved overall health and well being. How? By displacing and suspending your body weight on the mat.
Plus, and this cannot be emphasized enough, WellnessMat has a SEVEN YEAR warranty! You will definitely be getting your money's worth out of these. My guess is they will last a lot longer than seven years.
Easy to clean, you just wipe off. I'm so lazy I just wet a paper towel and wipe clean with my foot! So lazy I know but it works.
So, before the school bake sales and holidays are upon you, I would suggest you get these in your kitchen! They have lots of colors and designs to choose from. If I hadn't converted the built-in desk in my guest room into a vanity, I would get one for the bathroom too.